The American Idol 2015 Judges had a tough job last night on Idol when the Top 12 contestants became official thanks in part to their hand picked Wild Card saves. So now that we have our finalists in Season 14, what's their take on this batch of singers?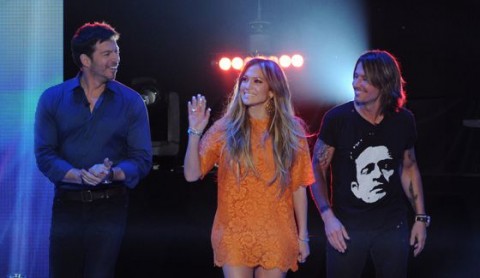 Speaking with FOX All Access, Keith Urban thinks American Idol 2015 is offering up something different this year with more depth behind a glossy cover.
"Really, really strong.  I mean, I just think what we're seeing this year is more artists.  It's not just about having a great voice or having a great look.  I think we've got a lot of guys and girls this season that have it all.  That's what we're looking for, the ones that have it all."
There are definitely some stand outs from these Top 12 that feel more like artists, but I'm not sure all of them are more than a singer and a mic. With a few months left to go in the competition we've got plenty of time for them to grow though.
Jennifer Lopez and Harry Connick Jr. agree that there's plenty of talent this season and they think the list of Hopefuls is set to deliver on American Idol 2015:
Jennifer: There's so many good ones that everybody's arguing over who the best is.  You know, I mean I love Adanna, I love Quinton, and I love this person —
 
Harry: We were doing that a little bit on the panel.
 
Jennifer: You know what I mean?  And that's when I think you get a lot of that water cooler talk.  And then contestants that are really capable of giving power house performances which I think we have a lot this year.
 
Harry: Yeah, oh yeah.
As for that Wild Card decision, just how tough was that for the Judges? "Yes and no," says Keith Urban. "Particularly when we take into account the consistency from the audition cities all the way through.  I think that narrowed it down quite a bit and I think the ones we chose were right.  I hope America agrees."
I'd agree that Quentin Alexander and Adanna Duru were the right picks for the Wild Card. Mark Andrew would have been a good choice too, but I would have made the same pick between them.
Now the challenge for those two will be to show America that they made a mistake in letting them go and not to do it again. We'll find out tonight if they pulled it off.