Nick Fradiani became the somewhat surprising winner of American Idol 2015 Wednesday night, closing out a season filled with great performances.
So now it's time to look back at those great moments and give you the Top 10 performances. Let's start with Number 10.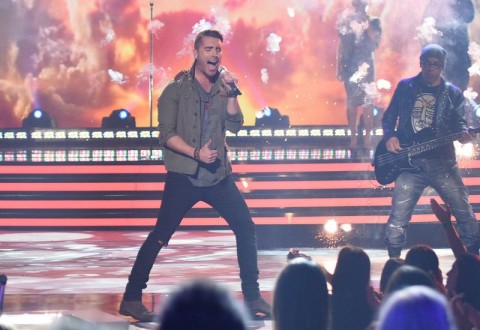 10. Joey Cook, "Fancy." Joey was never my favorite contestant, but she did have  a few good moments and this was one of them.
9. Rayvon Owen, "Always On My Mind." When I heard Rayvon was doing Willie Nelson, I may have laughed. But this turned out to be one of his best performances all season.
8. Michael Simeon and Jennifer Lopez dance to "Stay With Me." This was one of my favorite moments of the season. And for awhile it seemed like Michael Simeon was going to be a contender. He didn't make it deep into the competition, but he deserves a mention with this moment.
7. Jax, "Poker Face." Jax was pretty hit and miss for me, and even though I personally would put a ban on Lady Gaga songs on singing competition shows, this was one of my favorite moments from Jax.
6. Nick Fradiani, "Teenage Dream." I love when singers take risks and Nick took a huge risk with this. I think it was probably the first moment people actually noticed him as a contender and look where he ended up.
5. Tyanna Jones, "Tightrope." Tyanna was my absolute favorite from the season. I wish she had made it into the Top 3, but I'm still happy she lasted as long as she did. This was my favorite from her this season.
4. Clark Beckham, "Every Breath You Take." I think this was one of Clark's best. He made it his own and really owned the night with this one.
3. Jax, "I Want To Hold  Your Hand." I was a little worried when I realized she was going to change up a Beatles song that much, but it worked. It was emotional and raw and definitely her best moment of the season. She did perform this twice, once for her audition and once at Top 12. I'm sharing her audition version because it was the best.
2. Nick Fradiani, "Beautiful Life." I'm not going to cop out and put this as number one just because he won American Idol. Because it's not the best performance. But it was a great performance that I think pushed Nick over the top to win this season. And actually a really good coronation song and we don't hear many of those. So here's to hoping Nick finds some success with it. At almost 2 AM EST, it was No. 5 on iTunes. That's pretty solid.
1. Clark Beckham, "It's a Man's, Man's, Man's World." No, I didn't go with "Georgia on My Mind." Because this was Clark's best performance and if he had reprised it on the finale performance night, he might have beat Nick. It's obviously the best performance from the season. It's powerful, it's soulful, it's perfect. And it's the most-watched performance on YouTube from this season with over 300,000 views.