For the second week in a row and the last week of our Reader Rankings on American Idol 2015 we're seeing Jax leading the pack by a ridiculously close margin. Could this be a preview of the season finale results and who will win American Idol?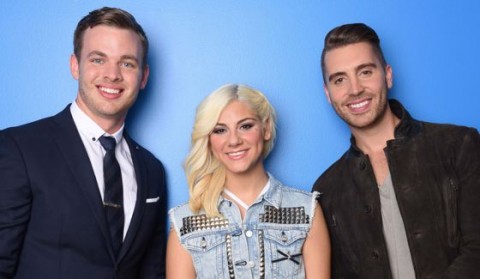 Just like the last round, Jax took the top spot over Clark Beckham and Nick Fradiani. Jax's lead this week? TWO votes. WOW. Out of thousands of votes in our poll it all came down to a few hundredths of a percentage point difference for Clark to end up in second place while Nick had roughly half the votes brought in by Clark and Jax.
American Idol 2015 Top 3 – Reader Rankings:
Jax (+0)
Clark Beckham (+0)
Nick Fradiani (+0)
With these numbers in mind I don't see anything other than a Clark and Jax Final Two with Nick going home Tuesday night at the start of the final performance show.
Do you see that happening or could we get a surprise results show when Ryan Seacrest dims the lights for the second to last time on American Idol 2015?