It's down to the wire for American Idol 2015 and now is when the power rankings really matter. Now is when we decide who we think the final three will be and which of that final three has what it takes to win.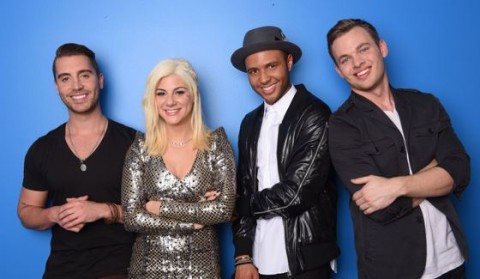 Of course this season, there have been two apparent front-runners, but what if that other contestant who has never been in danger has been that black horse we never actually expected. I'm of course talking about Nick Fradiani. What if Nick has actually been beating Jax and Clark Beckham in the votes… Do I think that's the case? No but what if it is … I'm going to stick to my gut, though, as you'll see in this week's power rankings.
American Idol 2015 Top 4 Power Rankings
1. Jax. I think American Idol producers definitely did what they could last week to push Jax ahead of Clark and I have a feeling it worked. So I think Jax, along with her great performances last week and that little push from the powers that be, put her in the current best position to win.
2. Clark Beckham. Clark made the mistake last week of implying that he doesn't want to win American Idol. Of course he explained what he meant, but the damage could already be done. And I think it's clear that the fact that that statement was shown, is proof that producers are rooting for Jax to win. I think Clark still has a shot to win as long as his finale song is something as strong as Phillip Phillips' "Home" was.
3. Nick Fradiani. As I said above, it's possible Nick has been leading this whole race. But I just don't see it. I do think he's improved enough that he will finally send Rayon Owen home, but I don't think he'll be in the final two.
4. Rayvon Owen. I think Rayon's nine lives are finally up. UNLESS the fact that he survived the bottom two week after week after week has pushed him to underdog status. We all know how much people love an underdog story. But I think the American Idol voters vote, Rayon will say goodbye this week.
How would you rank the remaining American Idol 2015 contestants?