It's our final look at the Season 15 rankings for these last three talented singers. One of them will be the next winner of American Idol, but before we get there someone will have to be voted off.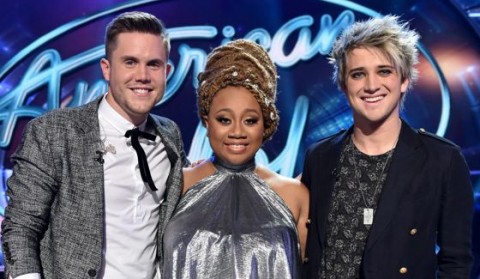 This week we had over 20,000 votes in our poll for who delivered the best performance from Thursday's Top 3 performance show with Trent taking the overwhelming lead in first place.
Trent Harmon scooped up over 54% of those votes while La'Porsha Renae held on to second place and 31% of the vote. That leaves Dalton Rapattoni in the vulnerable third ranked position at 14% heading in to Wednesday's results show.
American Idol 2016 – Top 3 Rankings:
Trent Harmon – 54% (+0)
La'Porsha Renae – 31.4% (+0)
Dalton Rapattoni – 14.6% (+0)
Yes all three will perform but only two of them will be doing so for your votes as the night will end with the final elimination of the season setting us up with the Top 2 for the next night's finale.
For the past many weeks of the season we've seen Trent in first with La'Porsha right behind him and Dalton has spent much of that time in third place, even when he had slipped in to the official Bottom Two the other week. Now that it's just the three of them this feels right for the season. There have been many great singers but these were the standouts for their appeal and performance abilities.
Unfortunately for Dalton I do think this is the end of his progress and he'll be eliminated on Wednesday night. That will leave Trent and La'Porsha to face off in the race for your votes and we'll have a new poll when that time comes for any final two combo.
Do you agree with these rankings? Share your thoughts and tell us what you expect to happen this week on American Idol!