The American Idol Top 24 take the stage tonight as the first half step before the lights and Judges for a chance to move on and become the final winner of American Idol.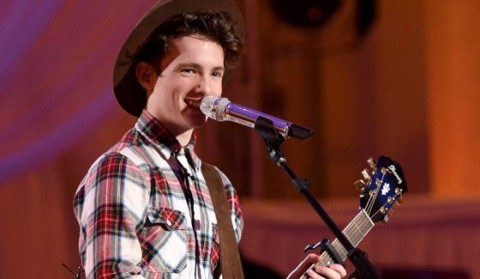 Tonight we'll be watching as singers like Gianna Isabella, Jene Rose Mitchell, James VII, MacKenzie Bourg, and eight more give it their all as we watch from home without a vote on the matter. Only seven of these next twelve will move on with five more being eliminated tomorrow night. The pressure is on.
We will be live recapping tonight's American Idol so stick with us here and keep this page refreshed for the latest on the performances. Share with us who you think has the best showing of the night and then get ready to see who moves on and who is sent home this week.
click images to see full-size views
Can't wait until Thursday night's American Idol results show? We have the elimination spoilers here for who goes home in the Top 24 and who makes the Top 14. These are going to be some shocking results for a lot of fans!
Find us on Facebook, Twitter, and Email Updates for the latest American Idol news.
Stephany Negrete, "Mama Knows Best." She's got a lot of power and a nice look, but her vocals aren't that amazing and she doesn't even seem to be enjoying herself. The judges call her out on her lack of connecting to the audience and I agree. That was definitely lacking.
MacKenzie Bourg, "Say Something."  It was a bit risky to kick off your major Idol run with a slow song like this, but MacKenzie put his own spin on it and it was tender and smooth and creative. Keith said it was believable and I agree. JLo and Harry also seem to be MacKenzie fans. He should be safe tomorrow night.
Jeneve Rose Mitchell, "Angel." Well this is a weird song for her but hey, she pulled out the harp, so whatever. I actually like what she's done to such a familiar song. She made it her own, and we all know how important that is in this competition. Harry didn't like that she pulled out the harp, but Keith thinks she's the "real deal."
Jenna Renae, "My Church." I think the song choice is a good one for her, but watching her follow Jeneve makes it pretty clear there's nothing that really stands out about her. She's got a good voice and nice stage presence, but she's one of the contestants that if I'm trying to name the Top 24 off to myself in the middle of the day (NOT THAT I DO THIS), I'd never be able to remember her. Keith is wondering what else there is to her and JLo thinks she was in her element. Harry liked the energy but thought she was a bit shouty. I agree, Harry.
James VIII, "Love Lockdown." OK, at this song choice. Not a good one for him, if you ask me. It's all kind of just OK, actually. There's no energy or entertainment value. I mean, he's a great musician, but nothing about this performance says "American Idol." JLo says it didn't grab her and Harry wonders when he's going to up the ante. Things aren't sounding good for James.
Sonika Vaid, "Safe & Sound." Another song choice I wouldn't have made. But I think it's kind of a smart choice for her. She's young, Taylor Swift is young. So it works. And I'll say what I usually say when someone performs a song by Taylor Swift types: This version was better than the original. Sorry not sorry. Harry thought it was one of the more emotional performances and Keith was so into it he forgot to take notes.
Gianna Isabella, "I Put A Spell On You." Can we get at least ONE episode where we aren't reminded that her mom is Brenda K. Starr? Trust me, we haven't forgotten. It's starting to really make me not even interested in her performances. But I'll try. I think it was OK. I don't think the song choice was smart for her. She should have gone with something young and fresh, but hey, her mom is Brenda K. Starr. And I'm not even going to get into what she was wearing. Keith says she can really sing but is inconsistent. Harry wonders how she can challenge herself since she's already so perfect.
Emily Brooke, "I Am Invincible." What was this performance? First of all, she picks a Voice winner song. And then she starts out like someone who has never performed before in her life. I am completely shocked at her performance. It just never got better. I had her making Top 5 this season, but now I see that's not going to happen. Yikes.
Avalon Young, "Love Yourself." I appreciate that you don't want to conform, but a hoodie and tights? You have to give us a little more than just the voice — especially when those aren't even that great. Why did she pick such a flat song? Not a fan. Harry think she knows who she is and Keith tells her to take charge. JLo thinks she had the audience in the palm of her hands.
Jordan Sasser, "All By Myself." First of all, this isn't a Celine Dion song; she only covered. Secondly, this wasn't a good song choice and not a good performance. He doesn't have the voice for this great big song. He managed to hold out the "big" note but I don't think it was even the right note. Bad, bad choices being made tonight. Harry didn't like it. JLo was iffy on it and Harry thought it was show-offy.
Thomas Stringfellow, "Creep." Finally a good song choice. And finally someone who I think is good who didn't mess up tonight. I do admit a few times this version of the song got annoying (I would have liked to hear it performed more naturally) but by the time he got to his falsetto, I was sold. Great and smart performance. Jennifer says he sings with emotion and Harry thought it was "tremendous." Thomas is clearly safe.
La'Porsha Renae, "Proud Mary." Even though it's not a youthful song, this was a good choice for her. This is the kind of song everyone should have pulled out tonight to try to make the Top 14. La'Porsha definitely earned her spot with this energetic and power anthem. Great way to close the show. Harry thought it was so good he'd be foolish to critique it. Jennifer dreams about voices like hers.