The American Idol Top 14 for 2016's Season 15 have been revealed in two part results from the semi-finalists rounds aired these past two weeks where the semi-finalists were split in to two groups, performed on stage, and then awaited the judges' results.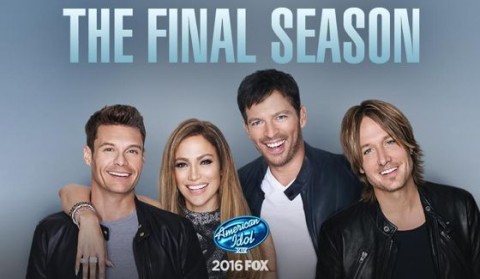 With the contestants singing in different teams the eliminations were a different beast. Not all singers truly had to compete against one another but rather just against the eleven other contestants in their assignment. The performances were also held over a week apart leaving us with only half the results for more than ten days.
Here the American Idol Top 14 singers are set to come together though as we now know the singers who will be part of the first viewer voting later in February. The Judges will pick eight of the Top 10 finalists leaving the audience to vote on which of the discarded talent were overlooked and should be part of the final stretch as Wild Cards.
Per the American Idol schedule, the results aired during the February 11, 2016 episode with the second half scheduled for a week later before the Top 10 is announced during the first live show of the season on February 25th.
American Idol 2016 Top 14 Contestants – Part 2:
American Idol 2016 Top 14 Contestants – Part 1:
American Idol 2016 Top 14 Contestants:
Unfortunately not all the great talent from the Top 24 could move on and that means we had to say goodbye to ten of the semi-finalists. These singers were sent home and are out of the competition.
Eliminated singers from the Top 24 – Part 2:
Eliminated singers from the Top 24 – Part 1:
And yes, let's go ahead and discuss it: Battle of the Sexes. American Idol kept 34 girls and only 17 boys for the Top 51. Now we've got 8 girls and 6 boys in the Top 14. Production is so thirsty for a female winner they'll press right on the end with a stacked deck in their favor.
Don't forget that production will be hand picking 80% of the finalists this year leaving just 2 spots for the audience to vote in to the final stretch of the race. Good luck, guys.
There you have it, the full results of the Top 14 results as we prepare for their performances to air during the next few weeks of American Idol episodes. Did the Judges make the right choices when it came to sending home nearly half of the talent that had made it this far? Lots of great singers were cut, but it's hard to avoid that when they should all be talented at this stage of the competition, right?
Share your thoughts below on these semi-finalists and tell us who you plan to support in the coming weeks of voting and Wild Cards.