Former glories of American Idol's past returned to the familiar stage tonight in part of a two-hour even featuring six past contestants and twelve of this season's Hopefuls vying for that final title of Idol winner.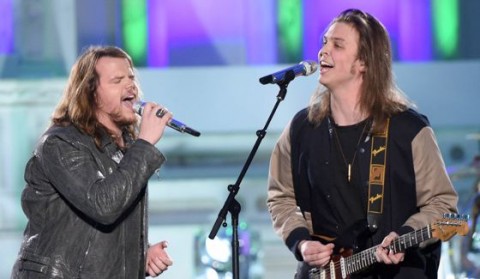 The results are locked and these singers are awaiting their fate while taking turns singing with various past winners and standout talent from American Idol's past fourteen seasons. It's a fun concept with strong potential so let's see who can deliver on their return and give their paired Hopeful a boost even if they head out the door.
Get ready for host Ryan Seacrest to dim the lights tonight for the big results. Stick with us here on this post as we update throughout the two-hour show starting at 8PM ET. By the end of the episode we'll have said goodbye to five singers who went home tonight and hello to the first half of our Top 14 for the Farewell Season.
So let's get to the duets!
Emily Brooke and Lauren Alaina, "Flat on the Floor." Well this is a good pairing and Emily was WAY better than last night, but Alaina did outshine her and I think that isn't going to be good for Emily. It shows she can't really hold her own against people who are better than her. Harry kind of points out what I just said in fewer words. JLo also implies that Emily isn't there yet but has potential to grow.
Thomas Stringellow and Nick Fradiani, "Man in the Mirror." This feels a little bit like big brother/little brother having some weird song battle in 1985, but for some reason it worked. Like Lauren, Nick is clearly the better singer, but Thomas held his own way more than Emily did. This was a good performance. Keith and JLo think Thomas was out of his element and Harry reminds everyone how strong his performance was last night. So it sounds like his struggles tonight won't matter.
Stephany Negrete and Ruben Studdard, "Superstar." It's becoming more and more clear that these performances aren't going to matter. All of these alumni are just totally outshining the contestants. Stephany is no where close to being in Ruben's league, so this is just weird. Her vocals weren't bad, but she made some weird technical choices. And can I just say this arrangement of the song was terrible. Jennifer was brought to tears by Ruben. Oh and Stephany was OK too. Ha. Harry thought there were some note issues, but a nice job.
Sonika Vaid and Caleb Johnson, "Skyfall." This pairing makes no sense. None. I don't care how much they're trying to convince us, this is just weird. This reminds me of how much I still can't believe this guy ever won, but that's neither here nor there. This is the first performance where the contestant outshined the alum. I did like their harmony a lot, though. That part definitely worked. Harry thinks Sonika is adorable and held her own up against a powerful singer like Caleb. Harry and Jennifer both agree that the performance worked.
Jenna Renae and Scotty McCreery, "See You Tonight." It's nice to see Scotty still has the most awkward stage presence. As for Jenna, this wasn't great. It was OK, but it was just boring. I seriously can't think of anything else to say. Let's get to the judges. Keith says it was a tricky performance and finds it hard to critique. I agree. JLo thinks she did the best she could and Harry says it was "solid."
La'Porsha Renae and Fantasia, "Summertime." Now this is a pairing that makes sense. This was a good one and a good song choice as well. Fantasia nailed it as usual while La'Porsha brought her own style to it and managed to definitely hold her own and then some. Keith gave that one a standing O, so it's no shock he loved the performance. JLo says she's amazing and Harry says she and Fantasia both killed it.
Now with the first six performances complete it was time to loop around for more with the second half of this week's semi-finalists.