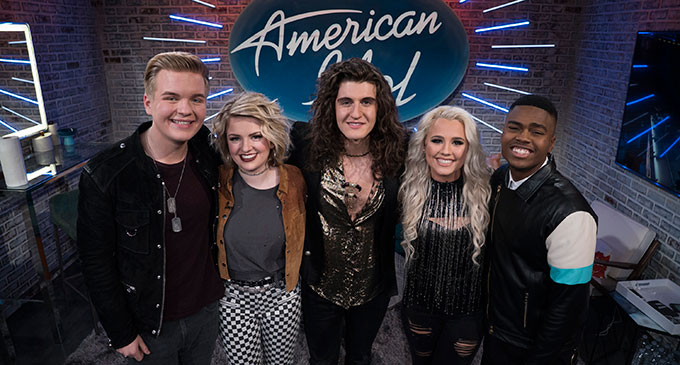 Who went home on American Idol tonight? Let's find to! Get those results below!
Tonight the American Idol 2018 Top 5 becomes the Top 3 when two more American Idol hopefuls are sent home following their performances and the outcome of America's votes.
The Top 5: Gabby Barrett, Cade Foehner, Caleb Lee Hutchinson, Maddie Poppe and Michael J. Woodard are all hoping to get one of those coveted three spots so they can perform as part of the American Idol 2018 Final 3 and the chance to the title!
This week the American Idol finalists will be performing songs from the Carrie Underwood songbook, as well as songs that honor moms everywhere in honor of Mother's Day. And as the new method continues, America is voting for their favorite performances live in realtime. That means we will have the results by the end of the night. So be sure to keep checking here with us to find out who stays and who goes home.
Also be sure to check out our full recap of the American Idol 2018 episode a little later to find out what we thought of the performances and the outcome of American's vote. We will also have our latest round of American Idol 2018 Power Rankings in the next couple of days and any other details and American Idol spoilers you'll need for the week ahead.
So let's go ahead and dim the lights, and get to the results.
Safe and onto the American Idol 2018 Top 3
Caleb Lee Hutchinson
Gabby Barrett
Maddie Poppe
Eliminated
Cade Foehner
Michael J. Woodard
What do you think of these results? Did the right finalists move on and go home? Who would you have rather seen in the American Idol 2018 Top 3? Let us know all your thoughts in our comments section below.
American Idol 2018 continues with its live performance show next Sunday and the grand finale on Monday, May 21.
Want more Idol? Join us on Facebook, Twitter, and get our Email Updates for more results & spoilers.