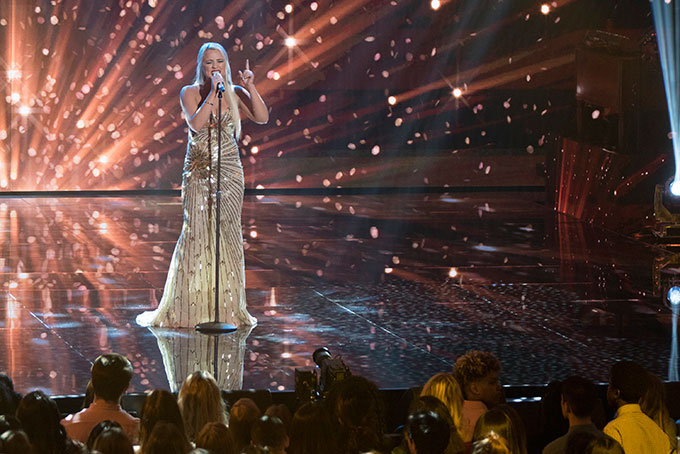 Sunday night's episode of American Idol 2018 featured the Top 5 singing songs by Carrie Underwood, but it was the songs they performed in honor of their mothers that really shined.
I think this was the first time this season that I liked almost every performance, at least during the second round.
As always, I'll be reviewing each performance and assigning it the letter grade I think each one deserved. These are just my opinions, so you don't have to agree, but we welcome you to share yours in our comments section below.
American Idol 2018 Top 5 Performances
Michael J. Woodard, "Flat On The Floor." That was how you perform. He started from behind the judges and worked his way all the way up to the main stage. And he pulled out some new tricks in his vocals. He went low a few times and it sounded really good. I didn't know he had that range. This was way better than I thought it would be. Grade: A
Gabby Barrett, "Last Name." I don' know why she decided to walk through the crowd if she was going to act like she was afraid someone was going to touch her. That was the exact opposite of how Michael handled starting the performance in the crowd. Her vocals were solid but she needs to work on her connection to the audience. She just seems like she doesn't like being there. Grade: B+
Cade Foehner, "Undo It." Well he didn't really pull back like Carrie Underwood suggested to him, so that was a little annoying. He really should try to not be at level 10 the ENTIRE performance. It was still a good performance, though. Grade: B+
Caleb Lee Hutchinson, "So Small." That was a good song choice for Caleb. It was sweet and tender and he seemed to perform a lot more effortless this time. I'm not usually a fan of his, but this was good. Grade: A
Maddie Poppe, "I Told You So." This is a beautiful song and it was a smart choice for her. And I loved that she didn't leave behind the guitar. I like when she reminds American Idol viewers that she's not just a singer but an artist. This wasn't her absolute best vocal, but it definitely felt emotional, vulnerable and true. Grade: A
Gabby Barrett, "I Have Nothing." And all it takes for me to like a Gabby performance is for her to sing a pop song. I don't understand why she wants to sing country. She's so good at pop music. Every time she sings a pop song, I actually like it. This was good and if these performances actually mattered now, this would have earned her a lot of new voters (I mean since people who are voting have already voted at this point it the night). Grade: A+
Cade Foehner, "Simple Man." I was happy to see he was doing a different version of this song since it has been done so many times before. This was a great song choice for him and I think it will help him win American Idol next week. Grade: A+
Michael J. Woodard. "Still I Rise." I didn't know this song and thought it was a bit slow and boring, but Michael is a great singer and can't really do anything wrong. Grade: A
Caleb Lee Hutchinson, "Stars In Alabama." I feel bad for almost never liking Caleb's performances, but I just didn't like this. It was slow and boring and even shaky at times. I'm sure America is going to love it though and pick him over Maddie and Michael, so what I think doesn't matter. Grade: B
Maddie Poppe, "God Only Knows." This was a perfect song choice and a perfect performance. I just zoned out and watched and listened. That's hard for me to do because I'm usually sitting here being critical, but she made me forget to even take notes. I loved it. Grade: A+
American Idol 2018 Top 5 Results
Top 3 and Performing in the finale:
Eliminated:
What did you think of the Top 5 performances and the results? Did America get it right?