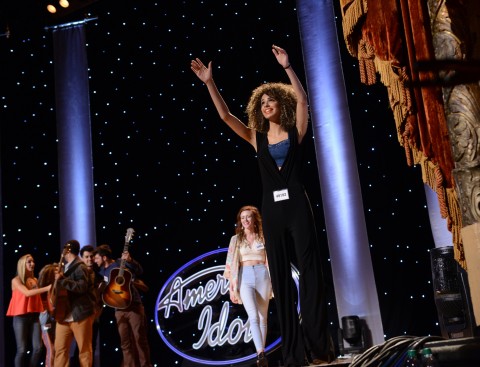 Dear American Idol 2015: Fire your editors. No really, the second episode of Hollywood Week Thursday night was so hard to follow that I wanted to scream. It was hard enough just to follow what was going on as a viewer, so imagine my struggle as someone trying to write a decent recap.
I mean, everything went so fast, performances were shortened and people were skipped over. Anyway, here's my attempt at a good recap. Please don't hold it against me if it's awful.
The episode kicked off with the whole Gabby Carrubba cliffhanger, but then it cuts to Katherine Winston. So let's start there.
Katherine pulled out another strong audition with "Wild Horses." We didn't get to see much because the show was too busy focusing on the drama around Gabby and her forgotten lyrics. In the end, Gabby and Katherine both make it through to the next round.
Here's a look at some of the final solo round performances:
Andrew Annello, "Valerie." I think I was supposed to like this, but I didn't love it. Of course I didn't get to see much of it before it switched to a mediocre audition from Maddie Walker. Andrew gets cut, but Maddie heads to the group rounds.
Cody Fry, "Lilac Wine." This guy is so so good. This interview was as good, if not better, as his original audition. I can't wait to see more of him.
Loren Lott, "Radioactive." Well, she's very cocky and arrogant and not that great of a singer. But her audition did something for the judges because she made it through to the next round. Maybe it's her look, because she is a beautiful girl.
Speaking of cocky, Shi Scott, whom I didn't like the first time we saw her took the stage and I again did not like her. All she does is impersonate singers. None of it is believable In her group, though, was Rayvon Owen and he's fantastic. He's a star. His original audition was definitely better than this, but he's still great. They both move on to the next round. For some reason they like Shi.
Clark Beckham's version of "Let's Get it On" was pretty good. He's sort of white guy with guitar boring but there's a soul and sexiness about him. That was followed by Daniel Seavey with "Thinking Out Loud. This kid's voice is still breaking, but he's so adorable and fun to watch that I don't care. Both guys make it through. to the next round.
And then we get a batch of HORRIBLE auditions. Like some of the worst I've ever heard in Hollywood. Usually performances that bad only happen in the audition rounds.
Qaasim Middleton, "Give Me Love." Oh, it's about the one millionth Ed Sheeran cover. It was a pretty good audition, though. He's got a lot of soul and character. He makes it to the next round.
And that jumbled mess of bad editing and hard-to-watch of the rest of the solo rounds came to a close. The group rounds are up next. And like always, the forming of the groups is dramatic and annoying and some people don't have groups and people are being horrible to each other. Oh and then there's the whole staying up all night rehearsing and the people who want to quit. You know, typical Hollywood Week stuff.
Let's take a look at the group rounds.
Double Stuffed: J. None, Clark Beckham, David Willis, and Jesse Cline, "Signed, Sealed, Delivered." To say this performance was a little all over the place would be silly because that's just how the group rounds almost always are. But this performance was all over the place. I said it anyway. I didn't hate it, but I didn't love it. I'd keep Clark and cut the rest. But the judges keep Clark, David and J. None. The others go home.
Sheba Squared: Andrew Bloom, Big Ron Wilson, Adam Ezegelian, and Shi Scott, "P.Y.T." I didn't like this group at all. But if you haven't noticed yet, I'm not a Shi fan. So her impersonation of Amy Winehouse/Duffy/everyone else has really turned me off. I zoned out during this one, I was so bored. I'd cut them all except Andrew. But Andrew was the only one they did cut. Big Ron, Adam and Shi (ugh) all make it though.
Dream Team: Tyanna Jones, Maddy Hudson, Reno Anoa'i, and Steffi Ledbetter, "I Just Want One More Chance." Well despite how great Tyanna is, this group really blew this one. They dropped lyrics and were all over the place. But they're all still very talented, so the judges cut Steffi and give the rest the benefit of the doubt.
Team Dimples: Jaq Mackenzie, Nick Fradiani, Michael Simeon, and Hunter Larson, "Rude." Michael Simeon keeps stealing the show. He was definitely one of the standouts during this audition and the judges thought so too. They all move on to the next round.
The next group ends in another annoying cliffhanger, so I'll wait to review that group next week.
What did you think of American Idol 2015's second night of Hollywood Week?
Click images to view larger