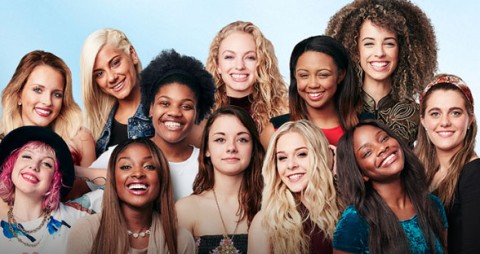 The American Idol 2015 Top 8 girls took to the stage Thursday night, meaning that four did not get to compete another week and were eliminated.
Let's take a look back at the night as I will be assigning each performance the letter grade I think it deserves.
Tyanna Jones, "Rockin Robin." I knew this theme was going to be great for her. She basically could've picked any song and sounded like she was right from the time it was recorded. And this song did just that. She had so much fun with it and she really made an old song sound young and fun. Tyanna is the real deal. Performance Grade: A
Lauren Lott, "I Wanna Be Where You Are." Lauren was as surprised as I was when she was called to the stage. I wasn't expecting it at all. And after that performance I'm still very surprised. That wasn't a an American Idol winning performance. Some of the notes were great, but overall, it was just odd. Performance Grade: B-
Maddie Walker, "I'll Be There." I'm so glad someone picked this song. And I'm really glad it was her. She really nailed it. I'm also slightly surprised she made it through based on our polls, but I'm glad she did. But back to this song. It was perfect for her. She had like one rough spot, but other than that, it was a great one for her. Performance Grade: B+
Joey Cook, "Shop Around." Hated it. I appreciate the effort of trying to take a classic song and make it your own, but this was pure murder. I want to say really mean things right now, so I'm going to just stop now. Performance Grade: D
Sarina-Joi Crow, "You're Really Got A Hold On Me." I didn't expect America to make this choice, but I'm very glad they did. She's one of the best singers in this competition and she proved that with this performance. Unlike Joey, she made this her own but didn't destroy it. I really, really liked it. I like how natural she is. There's no pretense there. Just pure talent. Performance Grade: A+
Adanna Duru, "Hello." This was another great performance. It wasn't perfect as Harry pointed out because it wasn't exactly in tune. But the emotion was perfect. She really owned the stage even if she didn't own the song. I still liked it a lot. Performance Grade: B+
Jax, "Ain't No Mountain High Enough." OK the start of the song was almost as offensive as Joey's. But then it got better. The difference between Jax and Joey is I think Jax's quirky style is more natural and less forced. And she also was wearing THE DRESS. So she gets bonus points for that. Performance Grade: B+
Alexis Gomez, "I Can't Help Myself (Sugar Pie Honey Bunch)." I must say, she's another I didn't expect to make it though, but after this performance it's still unclear why she did. I mean did you hear that, America? She's got the country twang that a lot of American looks for, but also that pop-rock angle that allowed Taylor Swift to genre hop. So maybe that's what you guys responded to?Performance Grade: D+
So that means Shi Scott, Lovey James, Shannon Berthiaume and Katherine Winston have been eliminated. I expected Shannon and Katherine to go, but I'm quite surprised by Shi and Lovey. What did you think of the Top 8?