We have to say thank you for our latest American Idol spoilers to finalist Jena Irene Ascuitto, who leaked the this week's Top 8 song theme and song list last week We love it when we find out spoilers about upcoming shows right from the contestants themselves.
*UPDATE: Click here for our full recap of tonight's show with performance videos!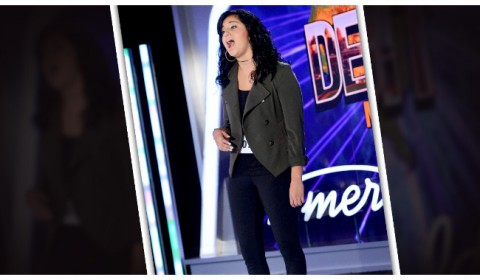 In an interview after her performance on Wednesday, Jena Irene dished up the American Idol 2014 spoilers on what the singers who survive tonight's elimination results will be singing in the next finals round. According to Jena, the song theme is 'audition songs' for next week.
Each of the finalists will be reportedly be reprising their audition songs from the beginning of season 13 to compare and contrast how much they've changed. We think this is an interesting choice from the producers and could put some of the contestants at more of an advantage than others.
For example, Dexter Roberts has been told repeatedly that he needs to shake things up and show viewers a different side of himself. And yet, he can't really do that when he's being asked to sing the same song he did during his audition. Producers have at least allowed him to pick his secondary audition song, and not the one that was aired on TV… but it's still kind of the same sort of song he's been doing anyway.
Plus, three of the Top 8 actually did their own songs during their auditions, which could give them a boost from the judges and the voters for 'originality'. Although Caleb is going to be going with his secondary audition song instead of his original, Jess and Alex are both going to be reprising their originals tonight.
For those who might have trouble remembering what song each of the current finalists auditioned with, here's the list below with their original audition videos. (Note that Caleb Johnson and Dexter Roberts will actually be performing secondary, NON-aired audition songs, not the ones below. Caleb will be doing "Chain of Fools" by Aretha Franklin. Dexter will be doing "One Mississippi" by Brett Eldredge.)
Alex Preston – Original song
Caleb Johnson –  Original song "Into the Void"
CJ Harris – "Soul Shine" by Allman Brothers
Dexter Roberts – "I Like to Drive" by Casey James
Jena Irene – "Rolling in the Deep" by Adele
Jessica Meuse – Original song "Blue Eyed Lie"
Malaya Watson – "Ain't No Way" by Aretha Franklin
Sam Woolf – "Lego House" by Ed Sheeran