We are hoping it will be a fabulous American Idol 2014 Top 8 performances show tonight, but we're having mixed feelings about this week's song theme. Instead of giving us something new to critique tonight in our American Idol recap, we'll be listening to the Top 8 revise their original audition songs.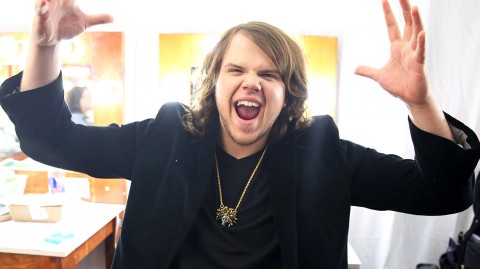 On the one hand, it should be fun to watch the American Idol season 13 Top 8 redo their original audition songs for a now and then comparison. However, we are also kind of annoyed at not having fresh songs to hear, and think this theme might put some of the American Idol Top 8 at a disadvantage.
Alex Preston, Caleb Johnson, and Jessica Meuse all did original songs for their auditions. American Idol judges Jennifer Lopez, Keith Urban, and Harry Connick Jr. all appreciated their creativity in doing their own songs, and we think the voting audience probably will as well. Also, when you write a song for your own voice, you tend to sound pretty good singing it, and no one is comparing you to anyone else while you're doing it.
While Caleb will actually be doing his non-aired audition song, not his original, Jess and Alex will be doing their originals.
Those who didn't do an original song during the American Idol 2014 auditions will not get the chance to showcase their creativity tonight. Instead, they'll be forced to do a repeat of a song by someone else they've already done, which sometimes reflects negatively in the votes. Not only will they be compared against their earlier efforts, but they'll also be compared to the original artists as well.
Doing a repeat could be especially difficult for country singer Dexter Roberts, who has been criticized repeatedly for not being 'original' enough in his song choices or putting enough of a twist on the country standards he's fond of performing.
It is a bit hard to be super creative when you are then forced to sing one of those popular country anthems you've just been told is too generic! We do hear, however, that he will at least be performing the song he did for the judges that was NOT aired on TV. But it's still kind of the same kind of country song anyway, so…
Well, I guess we'll find out tonight if this week's song theme will be a blessing or a curse for the contestants.
Here we go! Even though we are going back to the start to reprise auditions tonight, we are still hoping for some fresh, hot performances tonight. We need them, really. Seriously, we need some seriously great songs tonight people.
Welcome to your host for the evening, the ever skinny and bubbly Ryan Seacrest. He's going to be like Dick Clark, never aging a day until someday he vanishes and turns up in a tabloid looking like he's 110 a month later.
Now we have the introduction of the American Idol 2014 Top 8 finalists, and of course, judges Jennifer Lopez, Harry Connick Jr., and Keith Urban.
We aren't just going to get individual songs tonight, we're also going to have duets apparently. That should be interesting… can't wait to see who gets paired with Caleb.
So let's get on with the performances!
Jessica Meuse – Original song "Blue Eyed Lie"
Let's be honest, it's hard to sound bad when you are performing a song you wrote for your own voice. Luckily for Jessica, it's actually a good song in addition to fitting her voice well. She's on fire tonight and this is one of her best songs in weeks. The snarl in her voice and the curl of her lip are owning the stage. We're feeling Jess tonight.
Judges: Keith says it was a great start to the show and it was great to hear the song again with a band behind it. Keith says she reminds him of Grace Slick and he loves her ferocity on stage. He just wants the rest of her besides her face to move around and get some energy. J-Lo says this was a whole different experience for her and she loved it. She loved the whole thing. Harry says it reminded her of watching Cher in the 70s. He liked the song when he first heard it, and he likes it even better now. He doesn't think she needed to move around like Keith said. He said it was a great way to open the show and he loves that song, which she says is about an ex-boyfriend.
Vote for Jessica:
Text 10 to 83676
Call 1-855-4-IDOL-10 (1-855-443-6510)
CJ Harris – "Soul Shine" by Allman Brothers
We think CJ is certainly improved from his original audition and we like the rasp in his voice.
BREAKING NEWS
We don't get to hear more than a couple of bars from CJ when American Idol 2014 is interrupted by Fox news broadcast about the shooting at Fort Hood. Four people killed, including the gunman — reportedly a soldier, and 14 people injured. President Barack Obama comes on to say how hard this especially because of the memories it brings up of the shooting at Fort Hood five years ago. The investigation continues…
END BREAKING NEWS
Many viewers don't get to hear the rest of CJ's song or the commentary from the American Idol judges because of the news interruption. We did get to hear it and it was one of CJ's nicest performances.
Judges: The judges were liking it, J-Lo was touched, and he shined tonight. Keith and Harry also think it was a strong performance for CJ. We don't know if it will be enough to save him though.
We hope that they will either let him sing it again for everyone who missed it, or he will automatically get the save tomorrow night if he ends up in last place. Because it is not really fair to him not to have his performance heard. You can listen to the full version and the judges' commentary in the video above.
Vote for CJ:
Text 5 to 83676
Call 1-855-4-IDOL-05 (1-855-443-6505)
Jena Irene and Alex Preston – "Just Give Me a Reason" by Pink and Nate 
Our first duet of the evening is a total debacle, although the audience claps very loudly afterward. We think it sounded totally flat, off pitch, and awkward. They are both strong singers individually, but together they sounded absolutely terrible on this song. Ouch! No judging for the duets tonight, so you'll just have to watch for yourself when we have the video up in a few.
Sam Woolf – "Lego House" by Ed Sheeran
Sam seems to have slowed down the song a bit since his audition, and we're not sure we like it as well as the first time around. He also seems a little disconnected and not very emotionally connected to the lyrics. Also, the weird floor lamps arrangement around him is very weird and distracting. We like Sam, but we don't feel he's much improved on the song since he first sang it.
Judges: Harry says Sam  needs to connect with the audience, pick someone out from the audience and smile at them and make a connection. He thinks it was a very nice performance though. Keith says Sam is getting better every week and he's getting looser and more soulful. The audience screams over Harry and he yells at them to shut up and gets silly. J-Lo quickly adds that she liked it to and we move on.
Vote for Sam:
Text 12 to 83676
Call 1-855-4-IDOL-12 (1-855-443-6512)
Jessica Meuse and Caleb Johnson – "Stop Dragging My Heart Around" by Stevie Nicks and Tom Perry
Although they actually sound a little too much like the original, or at least Jess does, we think this was a smart duet pairing with a great song choice. Jessica and Caleb sound very nice together and the song suits both of their voices well. Way, way, way better than the previous duet.
Malaya Watson – "Ain't No Way" by Aretha Franklin
Malaya sounds much improved from her audition in our opinion. She's grown and matured, learned more control for her voice, and has a more emotive quality to her performance. She does tend to over-sing the high notes still… just a bit. But we'd say this was actually a very strong performance. The audience certainly seemed to like it, screaming throughout.
Judges: Keith says Malaya has always had this voice, but she just needed to be "with it" like she was tonight, in control. Fantastic. J-Lo says she is blossoming in front of their eyes and she has so much more control. She's going to be a huge star and run away with this competition. Harry says Malaya is doing everything right and it was a really strong performance. He just says that Malaya needs to study about doing runs a little more so they are perfectly in sync.
Vote for Malaya:
Text 2 to 83676
Call 1-855-4-IDOL-02 (1-855-443-6502)
Dexter Roberts – "One Mississippi" by Brett Eldredge
We have a different song for Dexter tonight than the one we originally saw him sing on TV for his audition. This is a softer, less 'upbeat country anthem' type song. Although it's not that big of a stray from his usual fare. We do like hearing Dexter do something that's more of a ballad, but he looks uncomfortable sitting on a stool not moving, stuffed into a vest that just looks too small and formal. He also has a few pitch issues and doesn't sound good with his backup singer, who is too loud.
Judges: J-Lo is happy to hear more nuance in his voice tonight than she's heard before. Harry was touched by it and liked the change up. Keith says it was really good and he's really grown by leaps and bounds. He says Dexter needs to think about connecting to his lyrics more though and really selling them.
Vote for Dexter:
Text 1 to 83676
Call 1-855-4-IDOL-01 (1-855-443-6501)
Malaya Watson and Sam Woolf – "Lucky" by Jason Mraz
This duet actually starts off kind of nicely, though Malaya sounds a bit weak actually. But after a few bars it kind of gets a little messy and they may have even messed up the lyrics a tiny bit at one point. It just fades out and lacks energy through most of the song and we get kind of bored with it.
Jena Irene – "Rolling in the Deep" by Adele
We really think no one should sing Adele but Adele, and we did not like Jena's original audition. She sounded strained and odd on the song when she first sang it. And now she does some kind of weird stripped down version of it that actually sounds off pitch in the beginning and there is WAY too much reverb. Jena is swallowing some of the words, and the low notes are vanishing into the mic. Really one of her worst performances in weeks in our opinion. We like Jena, but we are really not feeling this song arrangement.
Judges: Harry says what he originally though was a speech impediment in her voice at first is a tone that he's come to really like in her voice. He thinks she did a great job at a tough part in the competition. Keith says he loved that Jena took the song and made it her own. He says some people might hate it but he thought it was bold. J-Lo says her advice is for Jena to come out every week and blow it away and try to win. She says Jena needs to come out thinking she can destroy everybody else's performances because she thinks she can do it.
Vote for Jena:
Text 8 to 83676
Call 1-855-4-IDOL-08 (1-855-443-6508)
Dexter Roberts and CJ Harris – "Allright" by Darius Rucker
Oh wow this is really, really bad. CJ sounds just terrible on this song and Dexter isn't much better. Together they are a train wreck. We can't even talk about the crashing attempt at harmonies. It's just painful.
Caleb Johnson –  "Chain of Fools" by Aretha Franklin
The song Caleb is doing tonight is not the audition song previously aired on the show. That was an original tune called "Into the Void". This is his secondary audition song.
We would have liked to hear Caleb do his original song again, but this is a very solid performance. Certainly one of the best of the night, which he usually is. We wouldn't call it one of his most 'wow' songs this season, but it's very well done and very engaging. Caleb is just a pro on stage and there is no denying it. He also just simply has one of the best voices in the competition.
Judges: Keith Urban calls Caleb a "rock and roll viking" and he's awesome. J-Lo says it's like Caleb has been waiting his whole life to be on stage and he just feels the audience every single time. Well done. Harry says we know Caleb is big and loud and a solid performer, but he would love to see Caleb do something that wasn't "so loud" for once. Caleb says he understands yeah. But it was a nice job tonight.
Vote for Caleb:
Text 13 to 83676
Call 1-855-4-IDOL-13 (1-855-443-6513)
Alex Preston – Original song "Fairy Tale"
Once again, it's hard to sound bad when you are doing an original song you wrote for your own voice. This also happens to be a very catchy, engaging song. Alex is usually consistent and does a good job and this is no exception. We wouldn't say it is his best performance ever, but it should certainly keep him safe for another week. It's a nice listen, although we'd like a bit more emotion out of him, especially since it's his own original.
Judges: J-Lo is happy with the performance, as is Harry. He says they were laughing because Alex was "shaking that vibrato out" tonight. All three of them briefly talk over each other saying he did a good job tonight.
Vote for Alex:
Text 9 to 83676
Call 1-855-4-IDOL-09 (1-855-443-6509)