American Idol finalists Caleb Johnson and Jena Irene Ascuitto make pretty sweet duet partners, as we saw once again on the show Wednesday night. Now, apparently, they're also going to try out being dancing partners as well. Jena Irene briefly mentioned on American Idol 2014 something about taking Caleb to her senior prom, and it turns out she was being quite serious!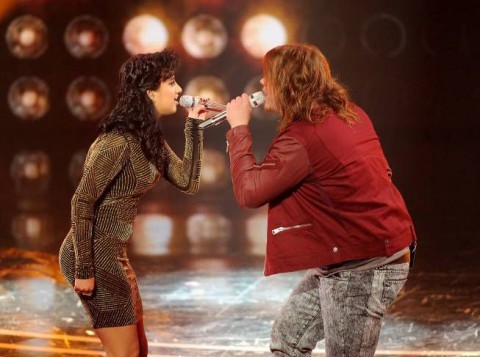 "Prom is May 30th for my school, so I hope we get to go. We've been talking about it for, like, months," Jena Irene told Zap2it and a group of reporters after the Top 7 American Idol performance show. "I really hope he does because [otherwise] I don't have a prom date!"
Caleb Johnson is apparently all up for it, as long as it doesn't get him in some kind of trouble with the law! "She asked me and I said 'Let's do it.' It might be illegal," he joked. "I'm 22 and she's 17."
Jena's parents, and the police, don't have anything to worry about, however. There is nothing romantic going on between the two, they are just really close friends.
"I think we're like the same person, except I have boobs and he doesn't. We're like the same person. We have the same personality," Jena said. "He just makes me laugh so much and we just have the same sense of humor — it's kind of dirty and twisted. It would be a fun night. He would be a fun date to go with."
While it does sound like a blast, Jena Irene and Caleb Johnson might not get the chance to go through with their plan. Jena's senior prom is scheduled for the week after the American Idol 2014 finale. If Jena or Caleb, or both, end up in the final two, then post-finale press and PR responsibilities might keep them from making the prom.