The American Idol spoilers for the Top 6 song theme have already been revealed and it's an interesting choice for the finalists. Not quite as fun and exciting as the 'Competitor's Pick' theme, but still something a bit different we haven't seen before on American Idol.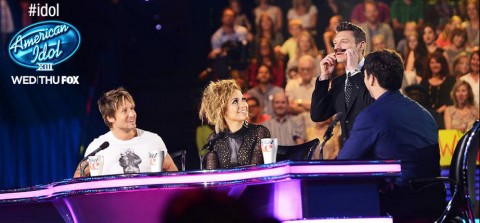 According to TV Line, the American Idol 2014 Top 6 song theme will be "a little bit country, and a little bit rock 'n' roll." What exactly does this mean? Well, apparently the finalists will be performing two individual songs, so no more duets for now probably. And one performance will be 'country' and one will be rock.
This sounds like a great night for Caleb Johnson and Jessica Meuse to both shine, since we think they can do both genres pretty equal justice.
If Dexter Roberts actually survives the elimination this week, we could see him doing well. If he can pull out the creativity and originality the American Idol judges have been begging for and not just sound like he's leading a cover band.
Jena Irene Ascuitto will probably also have a good time with this theme. We know she can rock it out, and we think she can probably find a country song that will suit her voice wonderfully.
The trouble spots, we think, will be Sam Woolf and CJ Harris, if they both survive tonight's elimination. Neither of them are really much country or much rock 'n' roll. And if Sam pulls out a soft, ballad classic rock song or latches on to something by The Beatles again, we might scream. This would be his chance to REALLY step out of the box and do something big and risky. He needs to show he's not just one dimensional if he wants to make it to the finale.
For CJ Harris, we recommend an equal measure of 'do something different' because he's riding right on the edge of being the one to go home next, if he manages to survive this week.
What would your choices be for your favorite contestant for 'a little bit country, and a little bit rock 'n' roll'?