Tonight on American Idol 2014, the Top 6 contestants are back on the stage with double the performances as they compete for your votes and the chance to move forward toward the May season finale.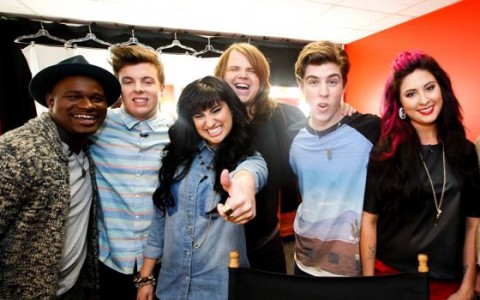 * UPDATE: Click here to watch all the performances and find out what happened in our Top 6 recap of tonight's show!
The live show's performances start tonight at 8PM ET on FOX. Join us throughout the show to share your thoughts and chat with other fans about who is having the best night on the show! We'll be live blogging the whole episode and sharing details on how to vote for your favorite American Idol Hopefuls!
The American Idol theme tonight is a double dose of performances with Country and Rock n Roll as each of the finalists will perform not one but two songs in their bid for your votes. We've made our song picks for the Top 6 contestants, but can't wait for spoilers on what they'll be singing tonight!
With just a few artists left in the Season 13 competition the pressure is high and there's no room for error as we've seen singers rise and fall in your polling votes. Which of them will become the clear front runner to win American Idol 2014?
Join us tonight for the show and enjoy the fun with us and all the readers here!
American Idol's Top 6 perform tonight: