If you'd asked us two weeks ago, we would have said we were about 90 percent sure that Caleb Johnson would be the singer who won American Idol 2014 in the end. In fact, we kind of did actually say just that. Then, last week… we started to think, wait a minute. There is another potential American Idol winner sneaking up on our favorite rocker guy and he might just want to watch out!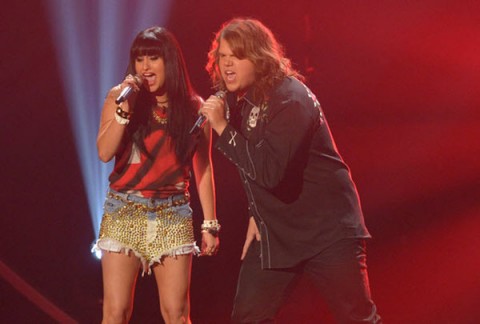 If you haven't guessed already from the photo above, we're talking about Jena Irene Ascuitto, who has ramped up her performances big time the past few weeks. Jena has always been a strong competitor, but suddenly she's gone from being just the girl who will probably end up in the final three, to a possible contender for the American Idol throne.
The latest American Idol betting odds from Las Vegas show Jena Irene now swooping into the favorite spot to win season 13. She has now overtaken Caleb Johnson in the lead and it's not even a very profitable bet at this point to put money on her because the return would be kind of crappy. That's how strongly the betters are putting her as the potential American Idol 2014 winner right now!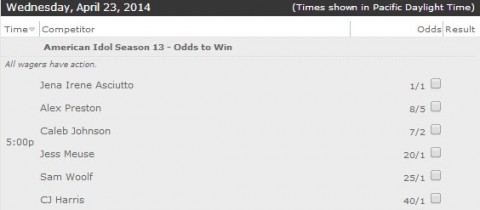 Over in our latest American Idol season 13 reader's poll, Jena Irene is also blowing away the competition after her second straight week of stellar performances. (This latest one got a standing ovation from Jennifer Lopez and Keith Urban.) Jena landed a whopping 43 percent of the vote in our poll for favorite performance, taking her up 34 points from the previous week. She smoked the second place winner in our poll, Sam Woolf, who only had a lowly 14 percent of the vote. Caleb Johnson and Alex Preston tied for third place with 12 percent each.
If we take a look at the American Idol Las Vegas odds, our reader's poll, and the social media standings out there at present, we simply have to give Jena Irene Ascuitto the victory this week as the most likely singer to win. We think former reigning champ Caleb Johnson is going to have to break out of his box a bit and give us more than just a great performance to regain the top spot. He's just so good that great isn't going to cut it anymore, he's going to have to give us 'wow'.
The big question in our minds right now is who is going to get Dexter Roberts' votes now that he's gone? Will the strong Southern voting block split to give a little bit each to — for example — Jessica Meuse, CJ Harris, and Caleb Johnson? Or will the majority unite behind one singer, giving them a huge boost in the weeks ahead going toward the finale?