Tonight on American Idol 2016 the Top 14 Hopefuls will be revealed after five more singers are sent home amid a tough round of competitions during last night's Idol show.
Update: It's time for tonight's results & to find out who went home on Idol.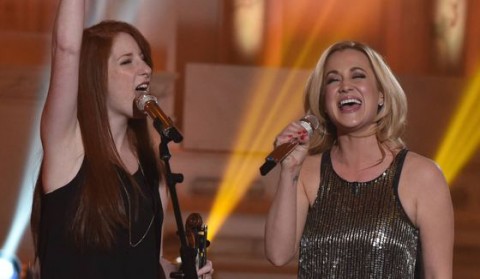 Starting at 8/7c on FOX, American Idol is bringing back some of its best talent from over the years to perform duets with this week's contestants from the Top 24 round. It'll be a highlight of the night for many of them when nearly half will be eliminated by the Judges.
These semi-finalists will have a second chance during tonight's performances to convince Judges Jennifer Lopez, Keith Urban, and Harry Connick, Jr. why they should move on to next week's finalists selection round. We saw last week how several contestants were given the benefit of the doubt over poor duets thanks to their strong solos last night, but does it also work in the other direction? Could any of the singers who struggled last night redeem themselves and move on? We'll soon know.
Spoilers have revealed both the duet pairings for tonight's show and much more importantly, who is going home tonight and who joins the American Idol Top 14 this year as the Judges look for the final Idol winner.
We'll be back here at 8PM ET with our live recap of tonight's two-hour show complete with performance reviews, duet videos, and of course the Idol results as viewers can prepare to commence voting next week to help Judges pick the final Top 10.
Want even more American Idol? Find us on Facebook, Twitter, and our Email Updates.