When the American Idol results tonight are over, we'll finally be down to the last two finalists for season 13! No matter who got voted off in our American Idol recap tonight, it's going to be a bittersweet evening. Two singers will have the glory of going to the finale, but one finalist will have to go home in the terrible 3rd place spot in our live American Idol 2014 elimination results tonight!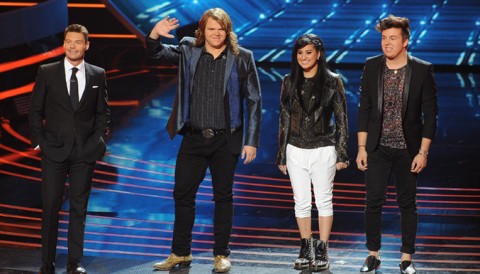 We went a bit out of the box with our prediction on who got voted off American Idol tonight. Most seem to think it will probably be Alex Preston's last night on the show, and rocker Caleb Johnson and Wild Card Jene Irene Ascuitto will be going to the American Idol 2014 finale. We don't think anything at all is guaranteed until those final voting results tonight are announced!
We've had shocking eliminations before in the American Idol Top 3 results. Kimberly Locke lost out to Clay Aiken and Ruben Studdard, even with a huge fan base behind her. Elliot Yamin came in third behind Katherine McPhee and Taylor Hicks when many thought he would go to the finale. Melinda Doolittle lost out to Blake Lewis and Jordin Sparks. Haley Reinhart was beaten by Lauren Alaina and Scotty McCreery despite her rabid fans. And let's not forget Angie Miller, who cane in third behind Kree Harrison and Candice Glover, even though she was a favorite to win for a large part of last season.
So who got kicked off American Idol tonight and won't be making it to the finale this time around? We'll have the live American Idol 2014 results for you right here below as they happen starting right now!
>> Join our Live Chat during the show! (pop-up window) <<
And here we go! It's time to find out who will be going to the the final two on American Idol 2014!
Of course, we kick off tonight with a bit about how it's the all important final elimination before the finale next week. Review the performances from last night, introduce the American Idol judges and Top 3 Caleb Johnson, Alex Preston, and Jena Irene Ascuitto. Oh, and host Ryan Seacrest's adorable new puppy Georgia!
Next up, of course, we'll have lots of fluff to deal with before we get to the results tonight. First off, we have to watch the American Idol Top 3 shove down burgers while talking about what happened last night. Including Jena's awesome "Creep" performance, Caleb's mic slamming, and Alex's awesome drumming while he was singing for the first time.
Moving on, after the commercial break, we'll have Jena Irene's hometown visit! Well, after the commercial break and then the Ford commercial disguised as show content while the Top 3 sing to their 'coronation' singles in their cars. The singles will actually be be online tonight following the show! Here are the songs:
"I Love This Feeling" by Alex Preston
"We Are One" by Jena Irene
"As Long As You Love Me" by Caleb Johnson
Jena Irene has an emotional visit home, reuniting with friends and family, visiting the restaurant where she used to work, and giving a concert for a huge crowd of fans. Check out the photos below!
Jena finds out she is going to perform with Paramore on the American Idol finale next week. How cool is that?
Another commercial break and we have a bit about the American Idol Live tour, then a visit with former finalists Elliot Yamin and Danny Gokey. Danny is expecting his second child, he is getting back to his music career, and he started an awesome charity for the homeless. Elliot says he has been "living the dream and making music" and has his third album out and has been working on his fourth.
Which is a great lead-in for the guest performance tonight from former American Idol winner Scotty McCreery with his single "Feelin' It"! Not loving it so much over here, but not a big country fan either.
Hilariously, after Scotty performs and JLo gives him a big kiss on the cheek, Ryan Seacrest makes some joke about how Jennifer Lopez "likes younger guys" when talking to Scotty. We swear JLo just about fell out of her chair with that snarky little reference to her relationship with boy toy Casper Smart, who is like half her age!
Now we have Alex Preston's hometown visit and his family is so sweet and adorable! Alex gives some radio interviews, visits with his lovely family and friends, and then gives an awesome concert for over 6,000 fans!
Alex Preston learns he will duet with… Jason Mraz on the American Idol finale next week. That's awesome for him, he adores Jason!
Last up, we have Caleb Johnson's hometown visit! He drops in on the kids at the Rock Academy, visits his family, stops by the famous Biltmore Estate and then rocks it out in a massive concert!
Caleb Johnson is stoked to find out he will be singing with KISS next week on the American Idol finale! WHAT! Wow, now that is crazy awesome! Caleb is freaking out!
Finally, after more commercials, it is time for the results to be announced! Host Ryan Seacrest brings all three finalists up to the front of the stage to learn their fates. He announces the first person through to next week is… Jena Irene!
The second person who will be competing in the American Idol 2014 finale is…
Caleb Johnson!
That means Alex Preston is going home tonight. We'll miss you Alex. Watch Alex sing his farewell original song "Fairy Tale" below to close out his run on American Idol 2014!
Be sure to join us here again next week for our American Idol season 13 finale recaps!
American Idol Results Tonight:
Safe:
Jena Irene
Caleb Johnson
Who got voted off American Idol tonight from the Top 3: 
Alex Preston