The Top 15 Guys had their night on American Idol 2014 with the judges picks taking the stage to perform for your vote. Those top ten have a shot at moving on tonight during the live results show, but who pulled off the best performances?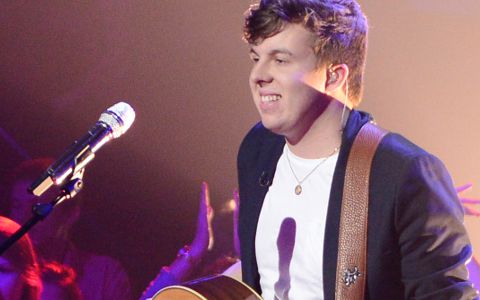 Here's our unofficial, unscientific, and completely opinionated ranking of the Top 5 guys from last night's show.
#1 – Alex Preston – "Volcano"
Alex Preston has been a stand out since his audition and we love his style and talent but still worry about his chances up against eye-candy type contestants like Spencer Lloyd and Sam Woolf.
#2 – Sam Woolf – "Babylon"
Speaking of Sam Woolf, this guy is going to be a real threat to everyone else out there! He's very talented and has the youth & good looks thing going for him. We wouldn't be surprised for Sam to win American Idol this season.
#3 – Malcolm Allen – "Comin' Where I'm From"
I've got a bad feeling about Malcolm Allen's chances given the current results in our poll. His song choice was great and the confidence he brought to the stage produced an impressive performance. Could he be a wild card contender?
#4 – Caleb Johnson – "Stay With Me"
High-energy is Caleb Johnson's signature on American Idol 2014. He's a great entertainer and is sure to have a good run this season, but is it enough to get him to the winner's circle? Either way, we expect to see him again soon.
#5 – CJ Harris – "Shelter"
Another awesome song choice last night with CJ Harris and "Shelter." We're sorry he insisted on using the guitar after his mentors advised him against it. Let's just hope it doesn't keep him back from moving on tonight.
Which American Idol Top 10 Guys made it to your "Best Of" list from last night? Share your thoughts below!