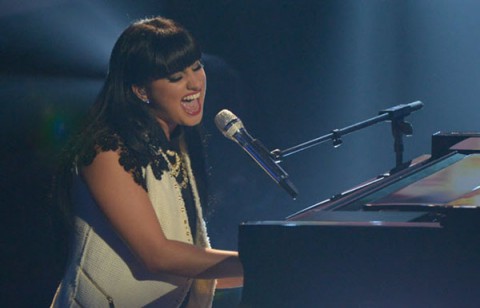 It's been a season that's been all over the place. A wild card is in the final two and all the early front-runners are gone. American Idol 2014 wraps up tonight, so it's time to look back at the Top 10 best performances of the season.
And when we did this, our findings prove that that wild card and rocker as a final two are quite warranted.
American Idol 2014 Top 10 Best Performances
10. Jena Irene, "Can't Help Falling in Love" (Top 4/Top 2). Sorry, America, but it wasn't my favorite performance. I know you voted it as yours and she sang it again last night. It's great, don't get me wrong, but there are others by her I prefer.
9. Sam Woolf "Time After Time" (Top 8). Sam didn't do much that impressed me before this one. But he picked this song (which I suggested in one of my blogs) and he handled it perfectly. My opinion of Sam changed then.
8. Alex Preston, "Always on My Mind"  (Top 6). Another song that I suggested and also one of my favorites from the season. I struggled with liking Alex as an artist. I found him boring, but every now and then, like this one, he'd pull out a performance that made me get him.
7. Caleb Johnson "Maybe I'm Amazed" (Top 4). Like Jena's Top 2 reprise song, America loved it, but it wasn't my favorite. I think it's definitely good enough for this list, but Caleb had a much better moment last night.
6. Malaya Watson, "Take Me To The King" (Top 12). Malya needed this performance. She had struggled the start of the competition the week before and this is when she broke out. She nailed the song and reminded voters why she made it to the live shows.
5. Jena Irene, Unbreakable Me (Auditions, Wild Card). The best original song performed by anyone this season came out of Jena. It's a beautiful song and it really showed us show she is as an artist.
4. Jessica Meuse "Rhiannon" (Top 9). I think Jessica was greatly underrated. I know she made it far, but she just didn't get the kind of praise she deserved. This Fleetwood Mac cover was my favorite of hers from the season.
3. Alex Preston, "Say Something" (Top 5). It's fitting that the guy who finished third gets this spot. As I said earlier, I was hit and miss with Alex, but this was a definite miss. It was a perfect song and it helped push him onto the final three.
2. Caleb Johnson "Dream On" (Top 2). This was a last-minute add, because Caleb just performed it last night. But it had to go on here and it had to go this high up. I think it was his best performance of the season. And I think it closed in any gaps between him and Jena. This is going to be a tight race.
1. Jena Irene, "Creep" (Top 7). I can't get enough of this performance. I have two Jena songs on my iTunes and it's "My Body" and this. I was very impressed by it and that was THE moment when she stopped being the wild card dark horse and came to the front.
What are you top performances from American Idol 2014?