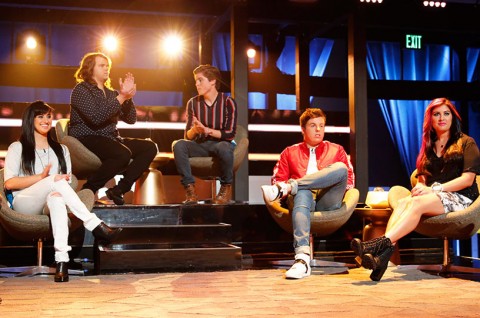 Well, America, you've now got your American Idol 2014 Top 5. One of them will become the next American Idol. But there are still a few rounds left and anything can happen. So let's take a look at how we think the Top 5 are stacking up after this week.
American Idol 2014 Top 5 Power Rankings
5. Jessica Meuse. I don't like ranking Jessica last. I think Sam should probably go before her, and he could, but if he has another good week, she could be the next to go. I think she's the most polished of the five left so it's sad that it looks like she doesn't have a shot at winning after two weeks in the bottom two.
4. Sam Woolf. Sam is very hit and miss. This week was a hit and that's why he wasn't even in the bottom two this week. Is he going to pull a Jessica Sanchez and ride that judges' save all the way until the finale? I don't think so. I think there are three people ahead of him. But we'll see.
3. Alex Preston. I'm still not sure if he's here or No. 1. I wish there was an actual indication. I do feel like maybe Jena has passed him up, though. He's just starting to come off pretty predictable and sometimes boring.
2. Jena Irene. She has come a long way. To think how her American Idol path has gone, is actually pretty mind blowing. It's very impressive that she went from wild card to bottom three to where she is now. She could actually win.
1. Caleb Johnson. I do get a feeling Caleb is still in the best position to win American Idol 2014. He never has a bad week and he's so commanding of the stage, that I think people are just going to vote for him a lot. I do think if he and Jena make it to the finale, she's the one person who can beat him. So look for those two to change places in our rankings soon.
How would you rank the American Idol 2014 Top 5?