The American Idol Top 8 studio recordings are now available through iTunes and we think we're going to have to grab a few of them. While we'd argue that many of the performances were actually better live last week, there were a couple of finalists who really shined their best in the studio.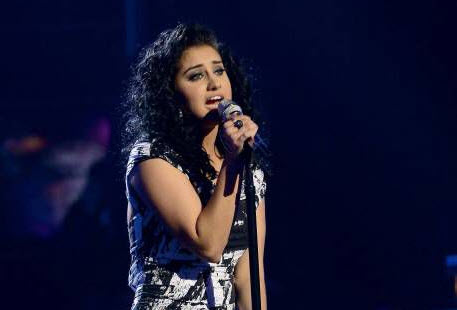 While we preferred Jessica Meuse's live version of her original "Blue-Eyed Lie" over the studio version, we actually liked Alex's original "Fairy Tales" slightly better in the studio version. The song just needed a slight bit more polish than it had in the live version and Alex's vocals were just a tad more rich in the studio recording. Definitely one we'll be downloading.
Sadly, Sam Woolf just always sounded better in the studio recordings than he did on stage on most of his songs. Last week's rendition of "Lego House" by Ed Sheeren is no exception. He just sounds so much more emotive and clean with his vocals. CJ Harris is another contestant who pretty much always shines so much more in the studio than in front of the cameras.
Caleb Johnson, on the other hand, almost always comes across more engaging in his live performances than he does on his studio songs. Caleb just seems to need that big audience and stage to stride on to perform his best. We'd say Jena Irene usually is more interesting live as well. Something about her just gets lost in translation when you can't actually watch her sing. However, we just don't like the arrangement of Adele's "Rolling in the Deep" she did last week either live or in studio.
Take a listen to the studio recordings from the American Idol 2014 Top 8 and let us know which was your favorite and who you think sounded better live!
Alex Preston – "Fairy Tales"
Caleb Johnson – "Chain of Fools"
Jena Irene – "Rolling in the Deep"
Dexter Roberts – "One Mississippi"
Malaya Watson – "Ain't No Way"
Sam Woolf – "Lego House"
C.J. Harris – "Soul Shine"
Jessica Meuse – "Blue Eyed Lie"