The American Idol 2015 Top 10 contestants perform live tonight for your votes as another finalist is eliminated and Idol's own Jennifer Lopez takes the stage with a guest performance.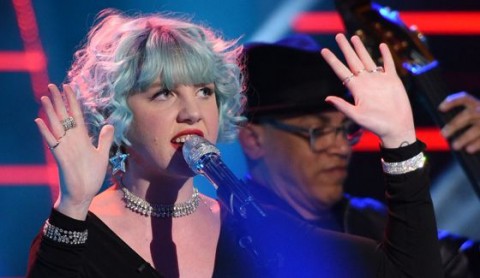 Tonight's theme will be songs from the cinema so get ready for those soundtrack hits which hopefully won't be including anything from "Frozen." Please. So let's settle in for eleven performances as the last of the night will be a last ditch effort by one contestant to remain in the competition.
Making the Top 10 mark is a huge milestone, but as Harry Connick Jr. pointed out before, all of these Hopefuls are wildly talented and have great potential with their music careers. Of course you don't want to see your favorites go home so check our details on how to vote for American Idol 2015.
We'll be recapping tonight's American Idol right here so keep us refreshed as we share performances, voting details, and results throughout the show. Check out our Idol chat room for more discussions with other fans.
The show kicks off with Nile Rodgers meeting with the Top 11 and they're singing "Get Lucky" on set before the show transitions to the live show where the Top 11 are performing the song. So yeah, the group numbers are back, but luckily for most of them they're just singing in place.
Adanna Duru sings "Love You I Do" by Jennifer Hudson
Nile says Adanna was nervous in rehearsals as this song seemed to be near her limits, but he's confident that she can pull it off. Taking on a Hudson song is no easy task, but she's doing well with it here though I'm not wow'd by the song choice this time around.
Keith says it was tricky to hear Adanna Duru at the start, but she looked amazing and he thought it was a good song choice. Jennifer thinks she did great with the high points, but struggled on the low points and expressing emotions. Harry says "everything was good, was strong." He wants her to focus on singing rather than walking the stage and touching hands with the audience.
How to vote for Adanna
Text: 12 to 21523
Call: 1-866-IDOLS-12
Daniel Seavey sings "Lost Stars" by Adam Levine
Jennifer worries that Daniel has picked too "heavy" a love song but hopes he can bring the emotion it needs. Nile advised Daniel that performing this one behind the piano might be the right choice so he's switched over to playing the guitar. Oh my, this is not good. You could practically hear the puberty croaking through his voice tonight.
Jennifer says it was an "okay job" for Daniel Seavey but says it wasn't his best. Harry thinks it sounded too much like a rehearsal instead of an impromptu performance. Keith thinks it was "good" and wants him to "dig in" more without getting distracted by the audience.
How to vote for Daniel
Text: 3 to 21523
Call: 1-866-IDOLS-03
Rayvon Owen sings "Stayin' Alive" by The Bee Gees
Rayvon is working with Niles and Scott to hone his performance and they're giving him smart feedback. Harry says the challenge here for Rayvon Owen is to take a famous song and do something new with it.
Harry gets some boos for telling Rayvon he needs more depth to his performance especially because Harry thinks Rayvon is better than what he's doing. Keith says he felt a bit lost as Rayvon wandered the stage. Jennifer agrees that he started out lost but later when he moved to the front and took control.
How to vote for Rayvon
Text: 2 to 21523
Call: 1-866-IDOLS-02
Nick Fradiani sings "Danger Zone" by Kenny Loggins
Nick wants to break out of his shell this week and is planning to perform without his guitar. Nile jokes with Scott that this is no easy transition but I agree that he needed to do something different. Let's see if this is what it takes.
The crowd is roaring for Nick Fradiani as Keith tries to give his feedback. Keith says he's getting more comfortable and wants him to keep going in that direction. Jennifer says Nick is their "cool, hot guy" and he needs to "own your hotness" while ditching his worries and just sing. Harry says that song didn't give him anything to work on with the silly lyrics and it was the wrong song.
How to vote for Nick
Text: 6 to 21523
Call: 1-866-IDOLS-06
Joey Cook sings "Mad World" cover by Gary Jules
Joey knows she needs to focus on her eye contact and that's what Niles asks her to try and do better with this week. Thankfully Joey didn't break out the accordion and she isn't butchering making over an already excellent cover by Jules.
Jennifer says Joey Cook was giving her "Sia vibes" and this was pared down, serious, and it felt beautiful. Harry says this was a great song and great choice while widening the lines of her style. Keith says Joey is such an artist and keeps showing us more depth.
How to vote for Joey
Text: 10 to 21523
Call: 1-866-IDOLS-10
Tyanna Jones sings "Circle of Life" by Elton John
Harry says Tyanna has yet to have a bad performance and wonders if she can keep the streak going. I'm thinking that won't be a problem for her tonight with this smart song pick.
Harry thinks she was trying really, really hard and may have overshot the mark tonight. He says Tyanna Jones had intonation issues and it felt like she was yelling. Keith thinks she was one of the best singers in the mix but she did have pitch trouble tonight. Jennifer thinks she has a powerful voice but this was a tough song and she'll look forward to next week.
How to vote for Tyanna
Text: 5 to 21523
Call: 1-866-IDOLS-05
Quentin Alexander sings "You're The One That I Want" from Grease
Judges wonder if Quentin can bring his performance style to the song while the mentor worried Quentin wasn't paying attention to the words. I've gotta admit this is much, much better than I thought he could pull off with this song pick.
Keith says he's heard that version before and thought it was interesting. Jennifer called it "haunting and beautiful" but worries it might not have translated like Quentin Alexander had hoped. Harry praises his emotion in the performance but says he must focus on the pitch.
How to vote for Quentin
Text: 11 to 21523
Call: 1-866-IDOLS-11
Maddie Walker sings "Let's Hear It For The Boy" by Deniece Williams
Jennifer loves Maddie's youth and energy but worries that won't be enough weight to her performance in this one. Maddie says she missed out on some of the rehearsals due to her health troubles, but she's ready to go.
Jennifer tells Maddie Walker it was cute and sweet but she questions if it was great. Harry didn't think it was good because he doesn't know she is as an artist in part because of how she fakes her twang. "It wasn't good tonight," says Harry. Keith doesn't think the song choice was right and wonders if she would have been better suited by a ballad this week.
How to vote for Maddie
Text: 4 to 21523
Call: 1-866-IDOLS-04
Clark Beckham sings "Sunday Morning" by Maroon 5
Keith hopes this will be the link for Clark looking to crossover with fans and the audience. Clark Beckham is performing the song slowly and softly with just his guitar and a darkened stage. I'm told the ladies will eat this up, so there you go.
Harry says Clark knocked it out of the park with the arrangement he put on this song. Keith says he's a fantastic singer, but wants a little smile. Jennifer says the girls want that smile. She really loved how he did that song in such a Clark style and made it his.
How to vote for Clark
Text: 9 to 21523
Call: 1-866-IDOLS-09
Jax sings "Grow Old With You" by Adam Sandler
Niles worries the song may be too quirky and Jennifer echoes that same concern about Jax decision to pick a fake song from "The Wedding Singer." I'm sure she'll do fine, but this was a flippant choice and Jax is not doing well with her artistic freedoms.
Keith loves that she picked the song even though he's only ever heard Adam Sandler sing that. Jennifer thinks Jax's pick played well in to her quirkiness though she thinks she could have picked some other great options. Harry says it was a good choice but cautions her to avoid rushing in her performance.
How to vote for Jax
Text: 7 to 21523
Call: 1-866-IDOLS-07
This leaves Qaasim Middleton in the elimination seat and he'll perform for the Judges Save. He'll be performing "Come Together" by The Beatles in hopes that the Judges will want to keep him in the competition for another chance at the big win.
Harry says this was arguably the best performance of the night but when it comes to the Save they only have one chance and… yes! They use the Judges Save on Qaasim! Congrats to Qaasim on returning to the competition and renewing the Top 11!
How to vote for Qaasim
Text: 8 to 21523
Call: 1-866-IDOLS-08
What did you think of tonight's results and the Top 11 Round 2 performances? Who were the standouts for you and deserves a spot in the Top 9? Those American Idol results will be revealed next Wednesday but we'll have our predictions before that. Find us on Facebook, Twitter, and by Email for more Idol coverage.