The latest American Idol results were revealed this week when Jennifer, Keith, and Harry decided the fate of San Francisco's auditioning Hopefuls vying for a shot at a Golden Ticket and trip to Hollywood Week on Season 14.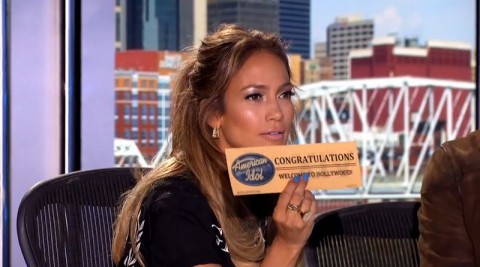 We have an expanding, but not exhaustive, spoilers list for American Idol 2015 showing who had made it through to Hollywood thanks to leaks and reveals during the audition process, but now we're getting official confirmation.
Here is the breakdown of who got a Golden Ticket on American Idol during Week 4 of the auditions phase on Season 14.
San Francisco Golden Ticket Winners:
Katherine Skinner – 15, Student, San Francisco CA

Erika David – 25, Hotel Rep, Fremont CA
Chandler Leighton – 20, Student, Los Angeles CA
Ryan Pinkston – 27, Student, San Francisco CA

Andrew Bloom – 17, Student, Yorba Linda CA

Kellyeann Rodgers – 24, Voice Teacher, Memphis TN
Reno Anoa'i – 16, Student, San Francisco CA

Rayvon Owen – 23, Singer, Richmond VA

Maddy Hudson – 16, Student, Pleasanton CA

Adanna Duru – 17, Student, Diamond Bar CA

Hunter Larsen – 20, Hostess, Malibu CA

Tara Honda – 22, Server, Murrieta CA

Daniel Seavy – 15, Student, Portland OR

Rocky Peter – 27, Street Musician, Dunbar CA

Jaq Mackenzie – 15, Student, Santa Monica CA

Tyanna Jones – 16, Student, Jacksonville FL

Want more American Idol results? Read our Top 24 list for all the latest spoilers.