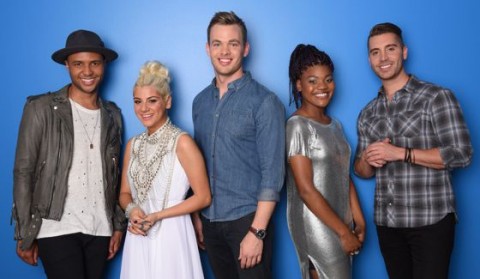 We've gathered most of the American Idol 2015 Top 5 song choices from various sources, but we're still missing at least a few. But we've got enough to go on, so let's take a look.
I'm going to start with Jax because it appears that she has picked the best songs this week.
Jax, "Empire State of Mind" by Alicia Keys and Jay-Z, and "Human" by Christina Perry. I think that Jax is going to hit a grand slam this week with these songs and this is a very crucial time for that to happen. She could actually pass up Clark Beckham this week if she does justice to this good song choices.
Clark Beckham, "Your Man" by Josh Tuner. We don't know his other song yet, but we can say that Clark will be able to kill it with this song. I think it's smart that he's going completely country with this because there lacks a country artist on the show at the moment. So he can pick up some new fans or at least some new votes for the night.
Nick Fradiani, "What Hurts The Most" by Rascal Flatts and "Bright Lights" by Matchbox Twenty. I think that the first song will go over very well. Like Clark, it's great that it's a country song and that will be a different side of Nick we'll get to see. When I heard he was also doing a Matchbox Twenty song, that made sense to me, but he lost me when I heard it was "Bright Lights." That's a lesser-known MB20 song and I just don't think that's ever a good idea.
Tyanna Jones,"Run the World (Girls) by Beyonce." I'm most disappointed in this song choice. I think this is a horrible song. It only has like 8 different lyrics and it's just a mess of a song. I think it'll come off as a mess and I think this is a horrible time for her to be making this kind of mistake. Of course we don't yet know what her other song is, so hopefully it's a better choice than this.
Rayvon Owen, "Believe" by Justin Bieber. Well Bieber worked for Clark, but will it work for Rayvon? I don't know if anything will work for Rayvon at this point, but I'm glad he gets to try. I don't love this song choice for him, but maybe it'll be OK. We don't know his other song choice.