Tonight on American Idol the final five remaining contestants deliver on Top 5 night with songs from the Judges hometowns and picks that reflect their inner artist.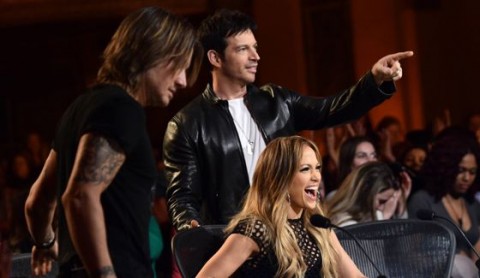 So far spoilers have revealed the first half of the Top 5 song list with the songs selected with the hometowns of Jennifer Lopez, Harry Connick Jr, and Keith Urban. Speaking of hometowns, the pressure is on if the singers want their own hometown visit because tonight's results mark the cut off for the big "going home" parade event.
In past seasons we saw only the top 3 earn this special occasion, but with the shuffled scheduled things had to be reworked to accommodate the extra contestant in the mix. So that takes us to the big question: who goes home tonight on American Idol?
Nick Fradiani and Rayvon Owen are jockeying in the fifth and fourth positions in our poll and are looking to avoid the next elimination and this could be very close. Or maybe we'll get a shocker and an expected Top 3 of the season will be eliminated with the Idol Fan Save gone from the game.
Join us back here at 8/7c for our live coverage and voting details for what should be a fun night of performances and an interesting introduction to a new twist for American Idol. Find us on Facebook, Twitter, and by Email Updates for more Idol all season.