American Idol 2015 introduces a new twist for the series tonight as previously teased by host Ryan Seacrest when viewers votes are taken to the next level: live Twitter action.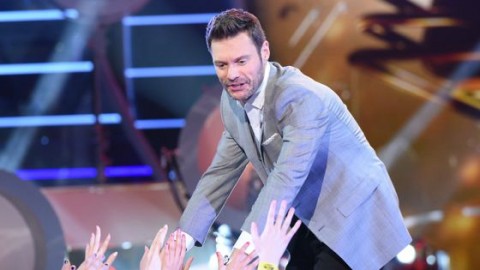 Ryan said there'd be a Twitter Twist but gave no other details for what to expect on American Idol this week. Now thanks to contestant Tyanna Jones we know what to expect and how we'll need to be ready for tonight's live performance and elimination.
Tomorrow everyone performs but the bottom two are left in your hands to save your favorite. Just a heads up for you my loves.❤

— Tyanna Jones (@iamtyannajones) April 1, 2015
Couple of changes here with the first being all nine singers will perform tonight. Last week the eliminated singers were cut out of their performance opportunity with the American Idol results, but not this time. All of the Top 9 will get their chance on stage, but it's the Bottom Two that will have an added pressure.
Online voting has typically been held during and after the show with the results being revealed at a later time. This week, and presumably moving forward if it goes well, the elimination decision won't be based on the overall votes from the week before. Instead the Bottom 2 will be decided by those previous votes, but a live vote via Twitter will make official which of those two remain in the competition and who goes home. Ouch.
That means the east coast viewers will be the ones predominantly making the decision, though there's nothing to keep west coast fans from getting in on the live voting. We'll be doing our live coverage which means you can follow along with us here tonight no matter where you are so you can get all the details you need to support your favorite.
This twist makes it seem obvious that the Judges decision to use the Save early was a move by production to get that over early and roll out this new plan. Would they have really done this Twitter Save with a Judges Save stacked on top of it? I doubt it.
What do you think of the American Idol twist for this season's eliminations? Is going to Twitter for a live save and elimination the right move or should the decision still be made by all viewers and their votes from the week before? Share your thoughts!