The American Idol 2015 Top 9 return to the stage tonight for your votes and a chance of a Twitter Save when the Bottom Two are revealed live and you cast your votes again!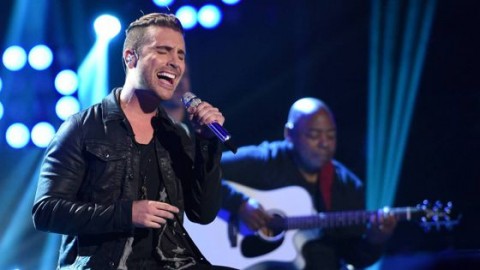 Just when we thought we had seen the last of the Top 9 they're back again for another round when all the contestants perform a hit song from Kelly Clarkson under her mentorship. Only the Top 8 will remain by the end of the night so stick with us for our coverage and elimination results right here.
We're recapping tonight's American Idol 2015 show right here so refresh this page for the latest performance videos, voting details, and results throughout the show. Check out our Idol chat room for more discussions with other fans.
Nick Fradiani performs "Catch My Breath"
This wasn't Nick's best performance by any means. He sounded drowned out by the band and his vocals were a little shaky. But it wasn't horrible. The energy was good, for sure. I think he would have been better suited with another song, actually.
How to vote for Nick Fradiani
Text: 6 to 21523
Call: 1-866-IDOLS-06
Jax performs "Beautiful Disaster"
I am so happy Jax sang this in her natural and pure voice. I love that she left the tricks behind for this because it was my favorite performance by Jax. I think the judges were really into it too. It was all just really dramatic and nice.
How to vote for Jax:
Text: 7 to 21523
Call: 1-866-IDOLS-07
Tyanna Jones performs "Mr. Know It All"
I think this was probably one of the best song choices of the night. I think it's a great song for Tyanna. I do think that she did need to channel some sort of emotion or anger, but I don't really feel like she did. But that's whatever. It was still a great performance.
How to vote for Tyanna Jones:
Text: 5 to 21523
Call: 1-866-IDOLS-05
Joey Cook performs "Miss Independent" 
Well there's no accordion, but it was as quirky and weird as I expected. And I actually disliked it more than I though I would, which I wasn't sure was possible. So Joey can still surprise me.
How to vote for Joey Cook
Text: 10 to 21523
Call: 1-866-IDOLS-10
Quentin Alexander performs "Dark Side"
This was actually a lot better than I thought it would be. I didn't expect this to actually sound OK being performed by anyone other than Kelly Clarkson. But he handled it very well. He didn't make it as dark and dramatic as I expected, though, which I think was a good thing in the end.
How to vote for Quentin Alexander
Text: 11 to 21523
Call: 1-866-IDOLS-11
Qaaasim Middleton performs "Stronger"
Well this was a little odd, since it ended up not sounding like the same song AT ALL. I don't know why  it had to be changed that much. I wasn't a fan of that by any means. And last time he slowed things down, America didn't like it. So I think he just sealed his fate next week.
How to vote for Qaasim Middleton:
Text: 8 to 21523
Call: 1-866-IDOLS-08
Clark Beckham performs "The Trouble With Love Is"
Well this was as good as I knew it would be. This was the PERFECT song choice for Clark. It was soulful and he was able to just let go and get completely lost in the song. It was probably his best performance to date.
How to vote for Clark Beckham
Text: 9 to 21523
Call: 1-866-IDOLS-09
Daniel Seavey performs "Breakaway"
Daniel finds himself in the bottom two singing for Twitter's save. And this was not a saving performance. I don't know if Twitter is going to vote on vocals or if they're just going to base their votes on his cuteness.
Rayvon Owen performs "Since U Been Gone"
Rayvon is also singing for his life. And while I thought this was a horrible song choice for him, he totally transformed it into a ballad and it turned out remarkably. That was a great, great performance and definitely worthy of a save.
How to vote for Rayvon Owen
Text: 2 to 21523
Call: 1-866-IDOLS-02
And the Idol fan save goes to Rayvon Owen. Daniel Seavey is eliminated.
What did you think of tonight's results and the Top 9 performances? Did America get the votes and this crazy Twitter Save right for the Top 8? The next American Idol results will be revealed next Wednesday but we'll have our predictions before that. Find us on Facebook, Twitter, and by Email for more Idol coverage.