The American Idol Judges watched on last night as Caleb Johnson was crowned the winner of American Idol 2014. After a full season of watching, critiquing, and guiding the finalists they were able to finally see who would come out on top.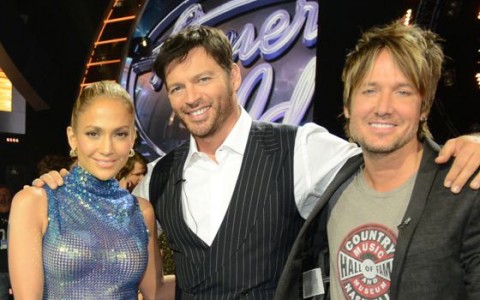 While we saw JLo gush over Jena Irene this season to the point of dropping f-bombs on live television, Lopez tells FOX Audio Central she is still happy for Caleb after beating out her seemingly preferred finalist:
I'm excited about it. I'm excited, you know. Caleb, again, it's one of those kind of fairy tale stories. He came in, he tried one year, he tried another year, he came back the third year. He wouldn't give up and he finally got there. So it's awesome to see him win.
Of course Lopez is sure to point out it took Caleb three tries to get here, but I imagine most any finalist would try a dozen plus times if it meant they could win American Idol.
American Idol Judge Keith Urban stayed right down the middle of the road on what he thought could happen at last night's season finale and wonders what many of us do each season: how close was it?
I think I was going to not be surprised either way, you know. I would love to see how close the voting was. I bet it was insane. I wouldn't be surprised if it was the closest they might have ever had in history.
It would be very interesting to get the final voting numbers since the season is over and couldn't influence future rounds of the finalists, but I don't think we'll ever see that sort of data.
Unlike JLo, Harry Connick Jr. worked hard to keep his reactions and comments unbiased and constructive this season. So did he have an idea of what would happen when Ryan Seacrest opened that envelope?
I mean I was really 50/50. I just didn't know. In fact, right before they announced the winner, I looked at Jen and Keith, I said, "What do you think?" They're like, we just didn't know. So it was a surprise, but not that much of a surprise because we figured it would be very close.
It was a great cap on a wonderful and exciting season. We're very happy to know these American Idol judges will be back for Season 14 if all goes as planned with their contract negotiations.
Source: FOX Audio Central