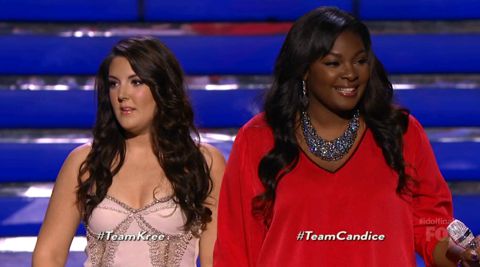 Here are our final American Idol predictions for Season 12. In just a few hours either Kree Harrison or Candice Glover will be crowned winner of American Idol 2013, but before that we can take one last look at the polls and predict which way it'll go.
We opened up our first poll on the subject yesterday morning and just before the last performance show aired the two finalists were practically tied at 50% a piece with thousands of votes cast. Incredibly close! Since then a small lead has opened up for Candice who now holds a 52% to 47% lead over Kree after more than four thousand votes.
Following the performance show we opened our weekly "who was the best?" poll and with over two thousand votes Candice has a huge lead with 62% to 37% (rounding prevents 100% total).
As Branden noted earlier in his prediction post, TV Guide has its own "who should win?" poll which is nearly the same as ours. They have just over four thousand votes and puts Candice at a 52-48 advantage over Kree.
Another very similar poll over at EW.com nearly mirrors our "who was the best?" poll and puts Candice at 64-32 advantage over Kree. They don't make their vote counts available though.
Getting off the polls and looking at other indicators we have some data from our Idol Facebook page (you've joined us there, right?). We posted dueling "Like if you want Kree/Candice to win" messages on our page to see which got the most "likes." Candice has 701 likes to Kree's 663.
We also posted "how to vote" details last night following the end of the show and encouraged readers to Share them so friends could vote for their favorites as well. 420 likes went to Candice with 84 shares while Kree brought in 401 likes and 113 shares. Kree won the "Shares" battle there, her first win in our data points.
The data here is obviously limited to the digital world and isn't fully reflective of all votes out there since phone calls are still a huge part of the battle. DialIdol takes a look at the phone elements and is predicting the win for Candice as a result.
Overall the signs are pointing toward a result of Candice Glover winning American Idol 2013, but they also indicate things are very close between the two finalists. Considering how strong both performed on Wednesday night this could easily go either way and leave us satisfied. Since I have to pick one for my prediction I'm going with Candice Glover for the win.
Who do you think will win tonight on American Idol?