The American Idol Top 5 have their songs set and ready for this week's live show. Ready to find out what they'll be performing? Read what's been revealed.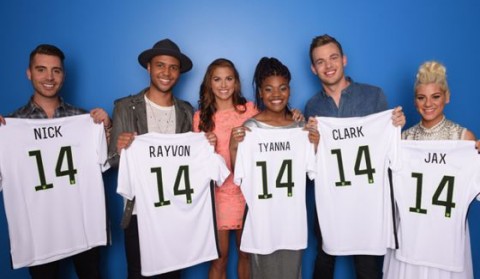 Getting the party started on song reveals was Jax when she announced we could expect her to perform "Empire State of Mind" as her hometown song. That means Jax was paired with Jennifer Lopez with the NY themed song. We'll also hear "Human" for what Jax considers to be a selection that reflects her soul as an artist.
Nick Fradiani has also started to reveal some of his song details hinting that we'll hear a Matchbox 20 song from him. Next we're starting to get the song spoilers for Clark Beckham, Rayvon Owen, and Tyanna Jones as well. Could Rayvon be hoping for some of Clark's luck last week to pay off for him too with a Bieber song?
Download these American Idol 2015 performances from Amazon here
.
Top 5 Song List Spoilers – American Idol 2015:
Clark Beckham – "Your Man" & …
Jax – "Empire State of Mind" & "Human"
Nick Fradiani – "What Hurts The Most" & TBD Matchbox 20 song
Rayvon Owen – "Believe" & …
Tyanna Jones – "Run The World" & …
Which song do you think will be the big hit of the night? We need a stand out from a couple of the more endangered artists if they want to avoid an expected result at the next elimination.
Source: iTunes via MJsBigBlog