The American Idol 2014 auditions continued tonight from Atlanta, GA. We only had one hour for the show, instead of the two we've had up until now. So the American Idol auditions were flying fast and furious from Hotlanta. We saw and heard some of the best singers yet in the competition, in our opinion, and could see several of them even making it to the Top 10.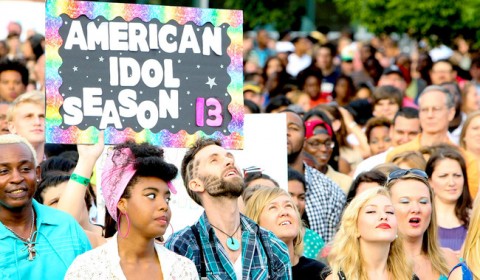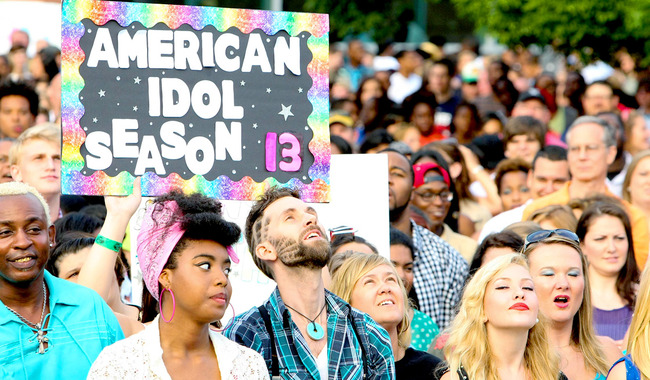 We were looking forward to some great auditions on Wednesday, including rocker Jessica Meuse, who was featured in a promo for the Atlanta Auditions. We also looked forward to the return of hilarious "Pants on the Ground" viral hit creator General Larry Platt. But the promos psyched us out and we didn't get to see him! That's okay though, you can check out his "audition" below to get you in a happy mood for the rest of the show. Just wait until you see the American Idol judges' reaction to this guy, especially Harry Connick Jr.!
Topping last night's great roundup of talent was a difficult task for the American Idol 2014 contestants at the Atlanta auditions, but it turned out there were some fabulous standouts this evening. One audition that we did NOT get to see, however, was repeat contestant George Lovett. We thought he'd be on tonight's show and were really looking forward to seeing his audition, but alas, he was not featured. We did find out he won a Golden Ticket though, so maybe we'll see him in Hollywood.
Now let's jump right into our recap from the show, shall we?
Tonight's opening intro is directed by host Ryan Seacrest's mom, kinda, he says. We just have to share this adorable photo he posted on Twitter right before the show started.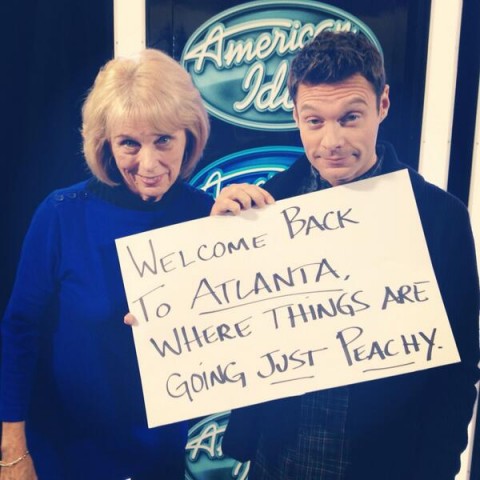 Now it's on to what's important, of course… the auditions! From what we hear, there are going to be some really sweet performances tonight and we can't wait to see them. So hold on for the ride, it's American Idol time!
We don't know why American Idol judges Keith Urban and Harry Connick Jr. have switched places tonight but we don't like it. Jennifer Lopez is still in the middle, of course. Because she's the girl, ummhhmm. The balance just seems off with the boys switched! Go back! Anyway, on to the auditions.
First up tonight is Majesty Rose York, who is amazingly 21 years old but looks like a teenager with flowers in her hair. Majesty has a killer voice and we're betting she ends up as one of the best of the night with her rendition of "Violet Hill" by Coldplay. She could warm it up a little and connect more, but she's got a lot of potential in her voice and plays guitar very nicely as well. Harry loved hearing something so beautiful and subtle. Jennifer says it was effortless. Majesty wins a Golden Ticket to Hollywood.
Jesse Cline 24, drove eight hours to audition for American Idol 2014 after working a third shift. We're surprised he can even walk! He's an okay singer but we aren't feeling his performance of "Washed by the Water" by NEEDTOBREATHE is anything really special. Keith and Harry feel he has a "believable" quality to him though and he gets a Golden Ticket.
Awwh, there's a puppy in the house! Chris Medina can't stand to be without his dog, who goes with him everywhere. Including, apparently, his American Idol audition. Harry Connick Jr. can't keep his hands off the pooch and kidnaps the dog while Chris is singing. We don't think the audition is really all that golden, but the judges apparently do and send him off to Hollywood. Harry needs a towelette though…
Now we have two auditions quick back to back. Nurse tech Kristen O'Connor, 24,  loves her job, but she still wants to see if she can make it as a singer. We like her voice and think she could go far in the competition. Emily Piriz says she's been watching American Idol since the first season, which makes us feel very old. She's also quite good with her performance of "Mamma Knows Best" by Jessie J. Both ladies are through to Hollywood.
Ben Briley, 24, is one of the best guy vocalists we've seen yet this season. He gives the American Idol judges a gorgeous performance of "Arms of a Woman" by Amos Lee. He's unique, has great tone, and his vocal range is fabulous. Possible Top 10 contestant? He's through to Hollywood like butter.
Next up is Nica Nashae, 24, who is out to make sure the American Idol judges don't forget her. She's full of attitude but luckily, she has the voice to back it up. The judges like her performance of "Natural Woman" perhaps a bit more than we did, but that's okay. Nica is through to Hollywood. Somehow we are betting she gets cut in the group rounds though.
Jordan Brisbane, 15, is a singer, student and likes to cook. He performs "When I Was Your Man" by Bruno Mars and it's a soulful and lovely rendition. He's good, but we feel he's a bit generic in places, and could use a bit more experience. Harry has similar feelings and he and Jennifer tell him to cool down on the runs, but the judges all decide to hand him a Golden Ticket for his potential.
Now up we have Sam Burchfield, 21, who producers seem to be trying to convince us is kind of like Phillip Phillips, who also auditioned in Atlanta, GA. Sam is cute and has a nice voice, but he's no Phillip. Harry isn't that fond of the performance and thinks it wasn't very genuine. Keith and Jennifer like him though and he gets a Golden Ticket.
Finally, a rocker girl with a unique voice and killer style! Jessica Meuse, 22, is our kind of contestant and we like her Stevie Nicks vibe, as the judges note. She's cool, she has natural, raw talent, and she knows her way around a guitar. Plus, she isn't afraid to put her songwriting skills out there either. The judges are digging her unique vocals and her stage presence. Three yes votes easy as pie and she's going to Hollywood.
Next is Jared Cotton, who we think has a decent vocal, but the judges aren't feeling him. They decide to send him home, which leads off a montage of failed auditions from Atlanta. We only catch the name of one of them, Travis Hunter-Brown, who does bad things with a ukulele.
Lauren Ogburn, 19, tackles the daunting task of singing "Fancy" by Reba McEntire. She does an admirable job, but it lacks the fire and passion the song really needs to shine. Her voice is a touch weak on parts as well. Harry tells her to stop trying too hard with her whole "look" and focus on her voice. Three yes votes and a Golden Ticket for Lauren.
Two guys come up in front of the judges next, Caleb Johnson, 22, and Neco Starr, also 22. Caleb made it to Las Vegas in season 11, but totally flubbed a performance and was cut. Neco Starr made it to the Top 42 the same season, but was cut before he could make it to the semifinals. Both singers are looking to redeem themselves. Neither of them really get a totally wow response for their performances, but the judges decide to give Caleb and Neco a second chance. Both guys will go to Hollywood.
Last up for the night is Bria Anai Johnson, 15, with a performance of "One and Only" by Adele. She has a very cool sound to her voice, although we think she lacks a bit of maturity in her vocals. She is one of the better girls of the night though and we agree with the judges that she earned a Golden Ticket.
That's a wrap! Join us again next week for our more live American Idol recaps!