Just turned 18 American Idol 2014 finalist Emily Piriz won a 'fast pass' to The X Factor auditions back in 2012, but didn't make it very far in the competition. Now, she's hoping her journey on American Idol season 13 will last a whole lot longer. Emily describes herself on Facebook as "an up and coming young artist from the Orlando area" and a "musician/singer/songwriter who's [sic] passion is music."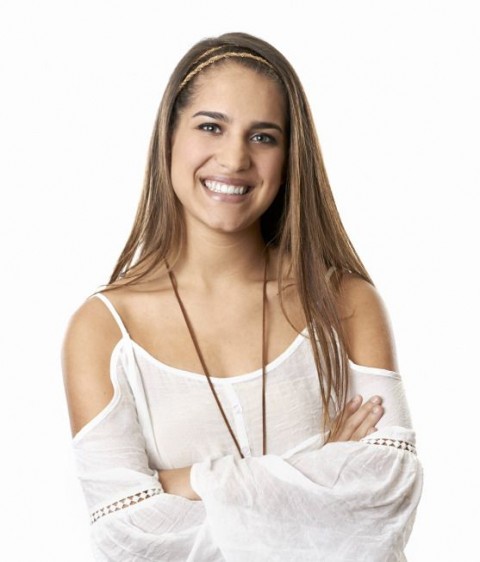 Website | Facebook | Twitter | YouTube | Fan Page | Idol Fan Page
Emily Piriz American Idol Performances
Season 13 Audition:
Road to Hollywood:
Hollywood Week Final Judgement:
Top 31 This Is Real Profile:
Semifinals Rush Week:
Top 13 Interview:
Emily Piriz Background
We couldn't find a personal Facebook account for Emily Piriz, which is where we often glean a lot of our information about American Idol 2014 contestants. However, we do see that she seems to play out and about quite often in the Orlando area, according to her Facebook fan page.
We did manage to track down a bit about Emily audition for The X Factor Audition Fast Pass Contest through some Google searching. She apparently sang "House of the Rising Sun," and reportedly won the pass to audition in front of The X Factor judges, but we aren't sure what happened to her from there. From a video we found on YouTube, it appears she may have also been on another talent contest show called Minuto De Fama back when she was just 14.
In yet another talent contest, Emily apparently won a session with a professional photographer back in 2011 as the winner of the 2nd Annual East Orlando's Got Talent contest. The photographer described her as an "absolute natural in front of the camera" and said it was "one of my favorite sets of images since I started this business." You can take a peek at the photos of Emily from the shoot here.
Currently Emily's official website is pretty bare, but we were able to use it to track down her YouTube and Twitter accounts. Emily apparently was being managed by Doll Face Music, as MJsBigBlog uncovered, but it is likely that she had to dump them as part of her Idol contract agreement. The management agency's website describes her as "an up and coming artist at the brink of super-stardom. She has a natural, God given talent to sing and is currently working on a new single."
Emily has a bunch more videos online at her YouTube channel if you'd like to hear more!