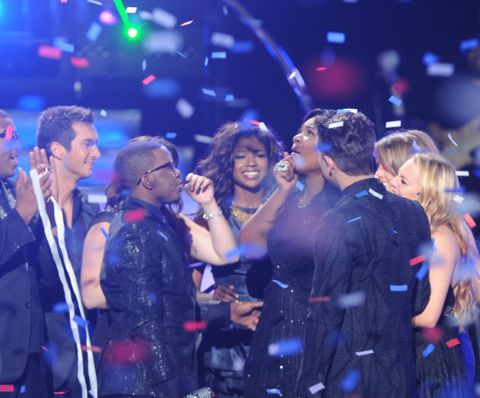 The American Idol Season 12 finale aired this past Thursday and Candice Glover was pronounced the winner. Throughout this season of Idol there have been questions raised about the credibility of the judges and the transparent manipulation of the results. The finale generated a whole new set of questions and accusations and our readers in particular have had some of the strongest opinions and insightful comments to date. After reading them all as well as reports that have surfaced since the finale aired, I've decided to offer my opinion of the season finale.
This season's finale was one of the best I've seen, especially because it made me forget all about the scandalous rumors that engulfed the show this season. It was filled with performances by the Season 12 Top 10 as well as finalists from previous seasons who have gone on to very successful careers in the music industry. Even the judges contributed performances, with the exception of Nicki Minaj, a glaring omission that did not go unnoticed by viewers. Many believed this was an intentional snub by Idol producers, but as it turns out that was not the case. According to reports, Nicki said "I was supposed to premiere my "High School" video on Idol but they said it was too risqué". If you've seen the video in question, then I think you'd probably agree with them. Nicki also offered this as an explanation for conspicuously remaining in her seat at the judge's table all night, "I had already committed to the Billboard Awards to perform "High School" so I wasn't allowed to perform it on [both]". I know Nicki has her fans and I have absolutely no issue with them or with Nicki Minaj, but I personally don't feel deprived of anything and that particular song really isn't suitable viewing for younger members of the audience. Can you imagine the backlash American Idol would have suffered if they aired the video after so many complaints about Nicki's off color remarks all season? Watch the video, than decide.
Mariah Carey's performance of a medley of her hits set off a barrage of accusations from readers here as well as on Twitter and Facebook. Fans of American Idol blasted the diva wondering how she could sit in judgment of the contestant's live performances all season, yet couldn't manage to deliver one of her own. Mariah's rep immediately released a statement saying "She absolutely did not lip-sync. She performed LIVE in front of several thousands of people!" The publicist did say that Mariah sang along with a pre-recorded track recorded earlier in the day. Audience members present during the taping confirm her publicist's statement saying she sang the songs live in front of them and she even included a few more that didn't end up in the final broadcast. I think she only appeared to be lip syncing because the audio track was not perfectly synced up with Mariah's movements. Mariah chose not to sing live during the broadcast and there are perfectly valid reasons for that, but unfortunately there are also consequences. It's a live show after all and the performer's spontaneity is going to be a factor. Ideally, every nuance of what Mariah intended to do during the live broadcast should have been synced with the pre-recorded track during rehearsal, and it probably was, but again it's live TV. Mariah herself has so far kept quiet on the issue.
The rapid elimination of the guys of the Top 10 was a hot topic this season. The skit they did claiming it was a case of sabotage by the girls was hilarious in my opinion. One by one, the reasons for their elimination were revealed. The best of the clip for me was when Janelle was seen changing the sheet music for Lazaro's rendition of "Close To You". For anyone who remembers that disastrous performance from Lazaro, it was the one LOL moment of the night and an inspired piece of comedy. Some of our readers thought it was somewhat hypocritical of a few of the guys to appear in the piece, considering the comments made on Twitter and in interviews right after their respective eliminations. There was definitely plenty of "sour grapes" from Lazaro Arbos and Curtis Finch, Jr. and even Devin Velez engaged in some less than gracious remarks after being voted off the show. But, I imagine at this point they all realize their mistake in doing so and this was a way for them all to finish the season on a high note. The potential exists for all of them to be at the mercy of Interscope and 19 Entertainment who hand out recording contracts to the Top Finalists. Sounding off on Twitter and making disparaging remarks to interviewers about the show and the judges is no way to endear themselves to the powers that be. American Idol gave them a way to redeem themselves and to save face and there's nothing wrong with that.
One memorable finale performance featured the Top 5 girls singing along with the "Queen of Soul" Aretha Franklin, who participated via a live transmission from New York. She spoke briefly with Ryan Seacrest and made a remark that set off yet another round of comments filled with the suspicion that Miss Franklin was privy to the final voting results. The comment that sparked the debate was "Candice, Tonight you're a winner, win or lose you're a winner". Ryan responded to Aretha with "You don't have the results tonight do you?" I don't believe for a second that Aretha Franklin knew what the final result would be any more than I did. The remark was only part of what she said and it was pounced on by the conspiracy theorists that lie in wait for such opportunities. I do think that Ryan added fuel with his comment and I can't even guess at his reasons for doing so.
Jennifer Lopez, former and possibly returning American Idol judge did a number with Pitbull. Rumor has it that JLo was in talks with producers about replacing Mariah next season. Some viewers saw it as a way for her to remind us of her qualifications to judge and there was even talk of it being a slap in the face to Mariah. It makes a lot of sense for her to appear if she is truly considering returning for Season 14. As far as it being a dig towards Mariah Carey, that seems unlikely and difficult to imagine.
South Korean pop sensation Psy performed "Gentleman". There was a large group of dancers backing him up, but it did nothing for me. It seemed passé and lame.
The Top 5 girls had some great performances singing with the superstar guests who flew in for the night. Amber Holcolmb and Emile Sande performed "Next To Me". While Emile moved around easily and confidently, Amber seemed a little awkward and they just didn't connect that way. Their voices were a good mix though and it sounded great.
Candice Glover got the chance to duet with former contestant, Jennifer Hudson. It's almost hard to imagine, given all of her amazing accomplishments since, that she was ever on American Idol. The audience and the judges loved the performance. Quite a few commented here that it was just a screaming contest. The same was said of last year's duet with Joshua Ledet and Fantasia. I think their voices were evenly matched as far as tone and range and I loved it.
Former Idol contender Adam Lambert returned for a duet of his single "Titanium" with Angie Miller. I think Adam is extremely talented and I love watching him perform. He seemed to tone it down a bit for this duet, possibly to allow Angie her time in the spotlight which speaks to his generous heart. Her voice seemed to drown him out when they were singing together and the only time I really heard Adam was when he sang alone. Immediately following this, Adam introduced Jessie J, Angie's personal idol and they performed a duet of Jessie J's song, "Domino". Angie did a good job, matching Jessie J's exuberance, bounce for bounce. It's been reported that Angie was given these two duets to make up for the producers reneging on their promise to allow her to perform "Set Me Free" on the finale. Angie again showed the side of her that Nicki harshly criticized her for earlier in the season during Motown Week. It seems she is moving away from the Christian music genre more and more.
Kree Harrison got to perform Keith Urban's song, "Where the Blacktop Ends" along with Keith and Randy Jackson. This was a pure country performance and a great moment for Kree. The three of them actually make a nice trio. Maybe Keith and Randy are ready to try something new.
I think Idol producers worked hard to give the girls what could end up being once in a lifetime chances to perform alongside those who came before them and went on to incredible success.
The tribute video that Idol put together for departing judge, Randy Jackson was full of classic comments and shots of Randy over the years. The actual dogs shown in the beginning of the clip were a little to "on the nose" but entertaining, mostly to the young viewers in the audience. Overall, I thought they should have put more effort into it. Considering that Randy has been with them since the very beginning, they should have gone all out for him.
American Idol has said they intend to do a clean sweep of the judge's panel for next season in an attempt to boost their declining ratings. We know Randy retired from Idol this season and won't be back. It was widely reported that Mariah had been fired, but fired or not she will not be returning for Season 14. It looks like she will be replaced by Jennifer Lopez who sat at the table during Season 10 and 11 but American Idol has not confirmed that yet. Speculation as to whether Nicki Minaj will be returning next season has come to an end. US Weekly reports that Nicki said she is definitely not returning for another season of Idol. Nicki also claimed that from the outset, she had only intended to do one season of the show. Keith Urban, the only judge to receive consistently good reviews from viewers has said that he will be replacing Randy Jackson on the panel and will be back for another season of American Idol. That leaves only 1 seat to fill, assuming the producers return to the 3 judge format, which is what the majority of viewers have said they prefer. I'm betting it will be a man, but who should it be? That's the burning question and the choice will be vital to achieving the dynamic that viewers want to see at the judge's table.
What did you think the Season 12 Finale? Did American Idol do enough to counter the negativity that surrounded them all season?