Tonight on American Idol the final four remaining contestants deliver on Top 4 night with songs hand picked by the Judges, mentor Scott Borchetta, and one from the Hopefuls as a tribute to their hometown. By the end of the night we'll have our Top 3 for Season 14.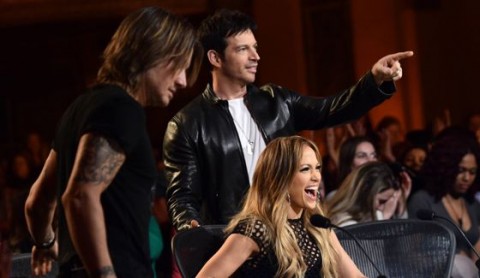 Down to the last two rounds of the competition, American Idol 2015 will say goodbye to another contestant tonight after their hometown journeys last weekend gave all four the unique opportunity of performing for huge venues of gathered fans. We'll see plenty of footage of that with tonight's Idol episode.
Can Rayvon Owen pull off another impressive elimination-dodge tonight after weeks of running the Fan Save gauntlet? Our poll suggests the Bottom Two could be Rayvon with Nick Fradiani but you never know what could happen and we can't wait for the official results!
Join us back here at 8/7c for our live coverage and voting details for what should be a fun night of performances and an interesting introduction to a new twist for American Idol. Find us on Facebook, Twitter, and by Email Updates for more Idol all season.