The American Idol Top 3 contestants were revealed when Ryan Seacrest announced the results of your votes and another Idol Hopeful was eliminated from the Season 14 competition.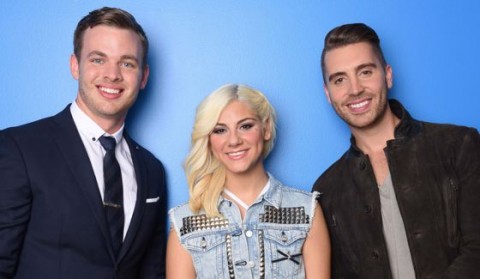 Just like last week we saw Nick Fradiani and Rayvon Owen in the Bottom Two of your votes in our poll, but last week it Tyanna Jones who was eliminated. Would we actually see someone other Nick and Rayvon eliminated? It'd be a shocking result for either Clark Beckham or Jax to be sent home before the finale, but that's not what happened tonight.
Once the results are made official throughout tonight's American Idol we will keep this list updated with the latest details. While we wait, which Hopefuls do you most hope to see make the cut? What will happen now that the Fan Save is gone? The answers revealed tonight starting at 8/7c when we'll live blog the outcome.
Idol Tour: American Idol tour tickets are on sale
this week. Ready to see your favs?
American Idol 2015 Top 3 contestants:
Clark Beckham
Jax
Nick Fraidiani
Which of these faces will be eliminated next on American Idol? We'll soon find out.