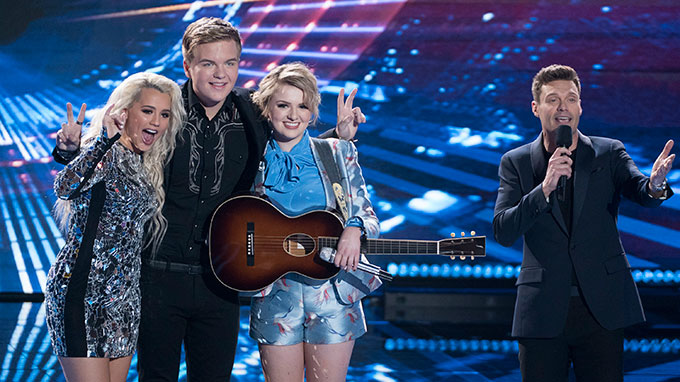 Tonight on American Idol 2018 either Gabby Barrett, Caleb Lee Hutchinson or Maddie Poppe will be crowned the newest American Idol winner.
Last night the Top 3 performed three songs each, including their potential coronation songs. Gabby's single if she were to win tonight is "Rivers Deep," Caleb's is "Johnny Cash Heart" and Maddie's is called "Going Going Gone."
So we will hear one of those three perform their song again tonight after being named the winner of American Idol 2018. So who will that be? I think it's going to be a close race, but tune in tonight to find out and join us back here for the full results at the end of the night!
American Idol 2018 Grand Finale Performances
Bebe Rexha and Top 3 Finalists – "Meant to Be" by Bebe Rexha
Darius Rucker and Caleb Lee Hutchinson – "Wagon Wheel" by Darius Rucker
Gary Clark Jr. and Dennis Lorenzo + Cade Foehner – "Bright Lights" by Gary Clark Jr.
Katy Perry and Catie Turner – "Part of Me" by Katy Perry
Kermit the Frog and Maddie Poppe – "Rainbow Connection" from "The Muppet Movie"
Layla and Dyxie Spring – "Blue" by LeAnn Rimes
Lionel Richie and Top 10 Finalists – "All Night Long" by Lionel Richie
Luke Bryan – "Sunrise, Sunburn, Sunset" by Luke Bryan
Luke Bryan and Gabby Barrett – "Most People Are Good" by Luke Bryan
Nick Jonas and Mustard – "Anywhere" by Nick Jonas and Mustard
Nick Jonas and Jurnee – "Jealous" by Nick Jonas
Patti LaBelle and Ada Vox – "Lady Marmalade" by Patti LaBelle
Yolanda Adams with a choir of voices + Michael J. Woodard – "What the World Needs Now"
Top 2 Finalists – "Somewhere Over the Rainbow" and "What A Wonderful World"
The winner of Season 1 of "American Idol" on ABC will sing his/her winner's single
Who do you think is going to be named the winner of American Idol 2018 Gabby, Caleb or Maddie? Who do you want to be the winner of Idol?
We'll see you back here tonight for your American Idol 2018 results!