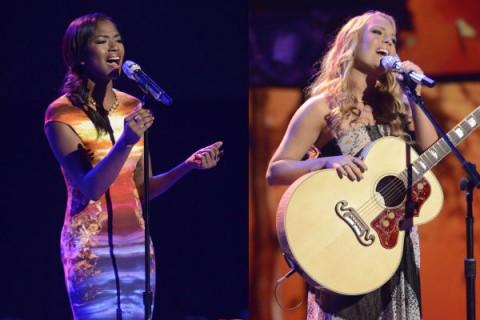 Last night on American Idol 2o13, the Top 5 took on songs from their years of birth and the diva of their choice.
It was a pretty slow night as almost all the songs were ballads, but the vocals were pretty top-notch. But I think it's still VERY obvious who things are going to play out tonight. I'm so confident in what I'm expecting to happen, that I'm only going to do one scenario.
As always, these predictions are based ONLY on how I think the votes will play out based on patterns, popularity and performances. These are not my opinions.
American Idol 2013 Top 5 Results Predictions
100 Percent Safe: Angie Miller, Candace Glover
Most Likely Safe: Kree Harrison
Bottom Two: Amber Holcomb and Janelle Arthur
Going Home: Janelle Arthur
Is this the judges' last week to use the save? Or did it expire before Top 5 week. I know it had something to do with Top 5. Anyway, I think they'll use the save just because it's their last chance. So it really doesn't matter who is in that very bottom spot this week. Maybe it will be Amber and she will be saved all dramatically since the judges are obsessed with her.
At any rate, I think we're still looking at at Kree, Angie and Candace Top 3.
Who do you think will be going home tonight on American Idol 2013?