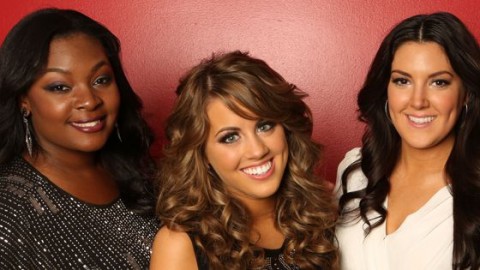 The American Idol 2013 Top 3 perform tonight. Starting at 8PM on FOX the final three ladies will take the stage three times to perform their individual songs and thanks to the Top 3 song spoilers we already know what those performances will entail.
If you don't want the spoilers then we'll at least confirm this week's theme on American Idol. Well, it's kind of a theme. The finalists will sing selections made by production, the judges, and Jimmy Iovine. It'll be interesting to see if any of those choices make it look like the team is sandbagging one of the ladies with an unflattering or particularly challenging song.
Along with tonight's performances we'll enjoy the hometown visit footage for each of the Top 3. There were a lot of video and images released by fans. Check out the photo gallery here. Hometown concert performance videos for each of their visits: Angie Miller – Candice Glover – Kree Harrison.
The pressure is on this week like never before. One wrong step and Angie Miller, Candice Glover, or Kree Harrison could see their dream of winning American Idol 2013 come to a screeching halt.
Which Top 3 finalist are you most excited to see perform tonight?