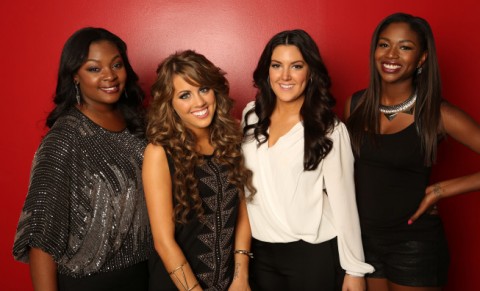 This week the American Idol 2013 Top 4 will again take to the Idol stage with two songs each. This week's theme is "Then and Now." That means standards and songs from 2013.
I'd normally be suggesting what I think the Top 4 should be singing this week, but since I've already seen the song spoilers, that's not only silly, it's impossible. How can I un-see those songs to suggest other ones? Urgh. So instead, I'll just share with you the song spoilers.
Then (Standards)
Now (Songs from 2013)
Candice Glover – "When I Was Your Man" by Bruno Mars
Kree Harrison – "See You Again" by Carrie Underwood
Amber Holcomb – "Just Give Me A Reason" by Pink & Nate Ruess
Angela Miller – "Diamonds" by Rihanna
So Amber is doing a repeat of "My Funny Valentine? Very interesting. Well, if these spoilers are true. It is pretty early for them to come out. But we haven't had any false reports from this source yet this season.
Source: The Idol Pad