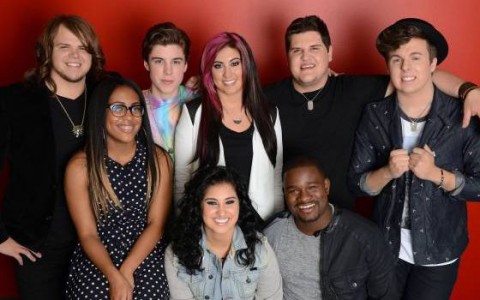 American Idol 2014 is deep into the competition and normally around this time you can start really predicting who might end up at the end. But this season is different.
Results have been all over the place, and while it looks like Caleb Johnson might be a front-runner at the moment, I'm left asking myself "is he really?" I have my doubts because this is the strangest season of American Idol ever. There are just so many oddities that I can't shake this uneasy feeling.
Is it that feeling of impending doom or has the show actually done what it set out to do this season and transformed itself? I don't know. But what I do know is that it's weird. Here are the reasons why:
1. The country fans aren't voting. Ben Briley went out early and Dexter Roberts, who I was sure to be a front-runner at one time, is now poised to leave in the next couple of weeks. Where are the country music fans?
2. Jena Irene now has a shot at winning American Idol. This isn't anything against Jena, but remember how she kept almost going home? She didn't even make it past the original vote and was put in as a wild card pick. Like I mentioned above, there just doesn't seem to be a clear front-runner. Caleb is probably the most likely, but since results have been all over the place, anything is possible.
3. Sam Woolf isn't carrying the younger female vote. By all means, this sweet and cute crooner should not have seen the bottom three until at least Top 5 or 6 (if even then), but he's been there twice now. Where are those fans?
4. Alex Preston's popularity. This is probably going to be very rude of me, but how has this guy managed to lead polls and never be in the bottom? He's as boring as Lee DeWyze and watching paint dry combined. I just don't get it.
5. Harry Connick Jr. I thought he was going to be a great judge, and he is as far as being technical goes. But there's something oddly creepy about him. OK, maybe not creepy, but weird. It's hard to explain, but his critiques are often really passive aggressive and odd. I've paid a lot of attention to Twitter's reaction and younger Idol fans are really anti-Harry.
Have you noticed how weird this season is? It just feels off to me. Is it a sign of the times or am I just being picky? Let us know what you think.