We have a new challenger for our who will win American Idol 2014 prediction post this week! For weeks, it's been all boys battling for the top spot in our future American Idol season 13 winner speculation post. Now, however, one of the girls has managed to claw her way up into the running at last!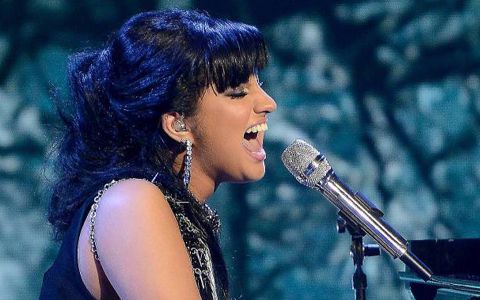 Every week we update our prediction on who is most likely to be the American Idol 2014 winner based on our readers' polls, the American Idol Las Vegas betting odds, and social media buzz. Since we reached the Top 13, the top spot has exclusively belonged to a guy every week. Sam Woolf was the early pick to win but in recent weeks, he's been replaced by Caleb Johnson as the odds on favorite for several weeks now.
A few other singers have popped up as potential threats to Sam and Caleb after having especially good performances, including Dexter Roberts and Malaya Watson. The only girl, however, to consistently keep riding near the top is Jena Irene Ascuitto.
We previously considered Jena a strong contender for making the Top 3, but this is the first week we're really going to put her as a possible Top 2 finalist. In our latest readers' poll, Jena Irene was the second favorite singer behind Caleb Johnson, with former top dog Sam Woolf falling all the way to fourth behind Caleb, Jena, and Malaya.
Adding another point to her favorite, Jena Irene Ascuitto currently has the best chance to win out of any of the girls according to the most recent American Idol betting odds from Bovada Sportsbook. You'll note in these odds from last week that Alex was riding high after an especially strong performance, but typically he does not garner the top spot in the Vegas odds.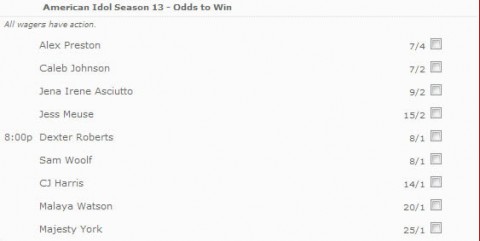 We've also observed that Jena Irene seems to be the most popular female contestant in our American Idol Live Chat during shows, and on our American Idol Facebook page.
We will note that Jessica Meuse is also quite popular in our chat and on Facebook, but her betting odds and ranking in our readers' polls fluctuate so wildly up and down, we question whether she has enough loyalty from fans to be a serious competitor for the Idol throne.
For now, we're still going to keep rocker Caleb Johnson as most likely to be the one who won American Idol 2014 when it is all said and done. However, we're going to be keeping a close eye on Jena Irene as a possible threat to his current reign. We're still not discounting Alex Preston or Sam Woolf either as potential winners, as long as both of them keep making good song choices and giving strong performances.