Final week of American Idol auditions kicks off right now with back to back nights of San Francisco talent performing as the Judges search for the next Idol Superstar.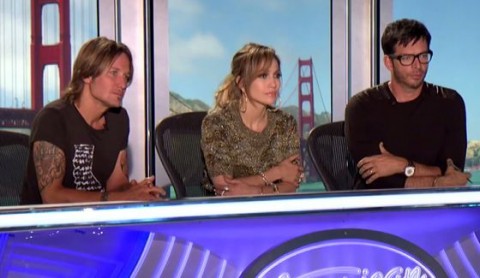 Last time on American Idol 2015 we visited Harry Connick Jr.'s hometown of New Orleans, but the talent turn out disappointed even him. Now with one final stop the pressure is on and the stakes are high. Have we already met this season's American Idol 2015 winner or could we about to find him or her this week? It's time to find out!
Oh we're off to a flashy start with Katherine Skinner who was motivated by her psychic cat to audition for Idol. She's here to sing "Shake It Out" by Florence + The Machine after ditching her big fur coat but her style might be bigger than her voice.
Uh oh. Jennifer is gritting her teeth as this goes on and on but surprisingly says she's talented and made for a stage, but she's not sure it's Idol's stage. Harry thinks she's exciting because she's striving to discover her focus and he liked her approach. Wow, she may get a ticket here. Yep, even Keith is on board. There's Katherine's Golden Ticket to Hollywood.
Now we've got a run of great performances starting with Erika David, a hotel rep from Fremont. JLo loves Erika's sassy performance. Chandler Leighton is a student from LA who gives Jennifer goosies with her "New York State of Mind" performance. Ryan Pinkston is a local student who delivers on Stevie Wonder's "As." All three Hopefuls are on to Hollywood.
Andrew Bloom, a student from Yorba Linda, is singing "Too Close" for his chance at a Golden Ticket. The Judges love it and are all singing and swaying along with Andrew's performance.
Keith starts off the feedback saying getting them involved is always a good sign and he likes his spirit, but there are still things he can work on vocally. Jennifer says it "feels right" with the way he presents himself on their stage. Harry cautions him about "all the blues licks and stuff" and to "watch that stuff." Three Yes votes and Andrew is off to Hollywood.
Back from the break we've got Kellyeann Rodgers, a voice teacher from Memphis. She gives a great performances that requires no debate from the Judges as it's an immediate Yes from Keith with Jennifer and Harry following immediately behind. Kellyeann has a Golden Ticket!
After a montage of "Idol Exit Fails" we've got Reno Anoa'i, who comes from a very, very crowded household where he sleeps on the floor of the garage. He's got a very musical family who taught him from a very early age. He's singing "I Don't Want To Talk About It" by Rod Stewart.
Jennifer says "very, very pretty voice." "Beautiful," chimes in Keith. Jennifer says she believed Reno when he was singing, but not when he did the runs and wants him to focus on the story. Harry says "great voice" but is worried that Idol needs more than just that voice and his audition was too one-dimensional. Reno gets three Yes votes and he's got a Golden Ticket.
It's time for some American Idol drama with Samuel Prince who turns the auditions in a soap opera telenovela. They act out a scene that ends with JLo slapping (no, not really) Samuel and Harry slapping Keith, because why not.
click images to see full-size views
Samuel finally performs but it doesn't last long. Harry says he was entertained, but the "harsh reality" is that his vocals just weren't strong enough. Jennifer and Keith agree that it's a No for all three of them.
Matthew Sequeira, a student from Merced, is next and it doesn't look good for him. Luke Randall, a sales rep from Utah, faces a similar fate when he isn't able to impress Jennifer.
Can Sade Shine break the streak with "Dancing In The Streets?" Harry says it was a good energy, but not the right one for Idol. Keith dissents and gives Sade a Yes so it's down to Jennifer… she says No and the streak continues.
Rayvon Owen is here with "Wide Awake" and so are JLo's "goosies!" Keith says Rayvon reminded him why he likes that song so much, and it's because of performances like that one. Even though Rayvon smiled through the song, Keith says it didn't bother him like he thought it might because he liked what he was doing with the melody. Harry says he delivered on planting his feet and just singing. Golden Ticket time for Rayvon Owen.
Double trouble time with Ezekiel & Jeremiah Cardenas, twin brothers from Long Beach, with one on guitar and the other on struggling vocals. The guitar is out of tune and Harry suggests they take the time to fix it, but instead they take a swing at another song. Keith stops them and Jennifer says they need more practice with agreement by Harry.
Closing out the night is Maddy Hudson who has struggled through her childhood to find that "happy place" but she sure seems to be there now with her big, pretty smile and outgoing personality. She's singing a powerful delivery of "Resentment."
Judges love her performance and this looks like a lock for a ticket to Hollywood. Jennifer praises her for the emotional connection she made in the song. JLo says she's only had the Goosies two or three times this whole season, but this was one of them and it was her whole body. Keith says he loves everything on the outside, but he also loves "everything it's covering up." Harry says Maddy has "all the ingredients" to be an Idol star. Oh yeah, she's through to Hollywood. Keith says she deserves three Golden Tickets and Jennifer says she thinks Maddy could win.
Join us on Facebook, Twitter, and by Email Updates to get the latest news then we'll see you for the next American Idol!
On Thursday night there's just one more episode of auditions before the focus turns to Hollywood Week and beyond so stick with us for even more Idol results and updates.