The American Idol Top 12 hit the stage tonight as host Ryan Seacrest reveals the results and you vote again for your favorite Idol contestants to move on to the next round as four are eliminated tonight.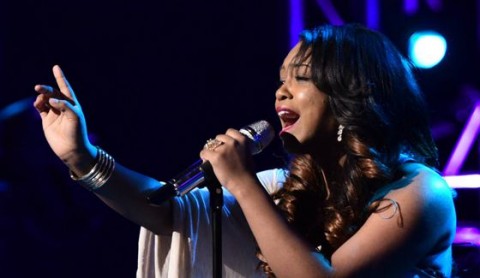 Taped in advance, the results of tonight's American Idol 2015 episode are already well known as spoilers leaked but we're anxious to see how it all turned out with another elimination right around the corner. These performances will decide who has earned your vote and who will be the first finalist cut from Season 14.
We'll be live recapping tonight's American Idol right here so keep us refreshed as we share performances, voting details, and results throughout the show. Check out our Idol chat room for more discussions with other fans.
Sarina-Joi Crowe sings "Love Runs Out"
I think Ryan announcing Sarina-Joi as the first person voted through by America must've thrown her off because that was defintely not her best performance. It was sort of all over the place, which is quite surprising for her. The energy levels were great, at least. I like Sarina-Joi a lot, though, so I'm happy she's made it into the Top 12.
How to vote for Sarina-Joi
Text: 1 to 21523
Call: 866-IDOLS-01
Rayvon Owen sings "Wide Awake"
This was much better than the opening performance. And it was definitely better than his original audition with the same song. And I'm just going to say it and not care: it's also better than Katy Perry's version. It got a little weird at one point, but I liked it. And I like Rayvon. I'm glad he gets another shot.
How to vote for Rayvon
Text: 2 to 21523
Call: 866-IDOLS-02
Daniel Seavey sings "Straight Up"
Even though Daniel's voice isn't the tightest, one thing you can say about him is he knows how to work a crown and a camera. He's got a lot of charisma, but his vocals need so, so much work. But that doesn't seem to matter to America at the moment, so he should be fine even beyond this Top 12 spot.
How to vote for Daniel
Text: 3 to 21253
Call: 866-IDOLS-03
Maddie Walker sings "Suitcase"
One of the country singers made it through the vote. Can the other? Maddie steals the spotlight with a great performance. This is finally a moment for her. It's definitely one of her stronger performances to date. And if Alexis Gomez leaves the competition, Maddie can work the country votes.
How to vote for Maddie
Text: 4 to 21523
Call: 866-IDOLS-04
Tyanna Jones sings "Wings"
American made a great decision with Tyanna. She's probably the best perfumer in the competition. And this song is completely perfect for her. She's got a great tone, great range and a lot of young energy. She's a star.
How to vote for Tyanna
Text: 5 to 21523
Call: 866-IDOLS-05
Nick Fradiani sings "In Your Eyes"
Nick has the look, the presence, all the talent and he actually seems pretty likable. This performance wasn't perfect, but it wasn't bad. It just had a few iffy moments. But he's still very worthy of this season's Top 12.
How to vote for Nick
Text: 6 to 21523
Call: 866-IDOLS-06
Jax sings "I Want To Hold Your Hands"
Jax broke out the piano for this reprise of her audition song and even though she completely changed a Beatles song (which is sacrilegious to many people), it was still a great effort. At least she gave us two different levels during the performance, which shows her versatility. Solid performance.
How to vote for Jax
Text: 7 to 21523
Call: 866-IDOLS-07
Qaasim Middleton sings "Sir Duke"
Well that was interesting. It was good, then not, then good again, then not. I'm not sure it was his best performance, but the audience seemed to enjoy it and America seems to like him. So will he make it through the second elimination this week? We shall see.
How to vote for Qaasim
Text: 8 to 21523
Call: 866-IDOLS-08
Clark Beckham sings "It's A Mans, Man's, Man's World"
We heard this song performed a lot on American Idol (and other singing shows), but this might be one of the best versions. Clark is such a natural. And his look is improving too, along with his stage presence. The crown and judges loved this, and rightly so.
How to vote for Clark
Text: 9 to 21523
Call: 866-IDOLS-09
Joey Cook sings "King of Spain"
What? No accordion? Oh well I guess the ukulele (or whatever it is) and the weird hat and weird word inflection will have to make up for the quirkiness missing with the accordion absence. Why does America love her? Someone please comment and let me know.
How to vote for Joey
Text: 10 to 21523
Call: 866-IDOLS-10
So that's 10 of the Top 12, but the judges get to pick the two wild cards. And the first person hand-picked by the judges is Quentin Alexander.
Quentin Alexander sings "Royals"
I think the judges made the right decision with this. And that performance should prove that. That was an emotional and spirited performance. He's clearly happy he's getting this second shot and he gave it his best, for sure.
How to vote for Quentin
Text: 11 to 21523
Call: 866-IDOLS-11
The second wild card pick is Adanna Duru. That means Alexis Gomez, Loren Lott, Mark Alexander and Adam Ezegelian are out of the competition.
Adanna Duru sings "You and I"
I'm glad for her that the theme was repeating audition songs. Because that was a fantastic audition and she brought everything great about her back to the stage with this second-chance performance. I have a feeling it might just save her during Thursday's eliminations as well, despite her pitch problems.
How to vote for Adanna
Text: 12 to 21523
Call: 866-IDOLS-12
What did you think of tonight's results and the Top 12 performances? Who were the standouts and who has earned a spot in the Top 11? Those American Idol results arrive on Thursday's show so get ready for more Idol action.