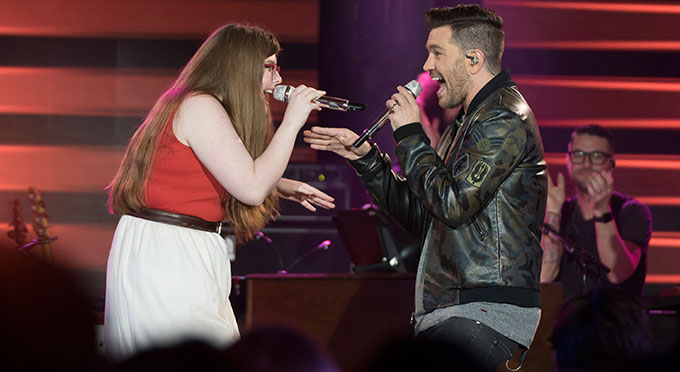 Monday night's American Idol 2018 brought us half of the Top 24 performing alongside celebrity duet artists.
There were some definite standout moments and few underwhelming performances. If you missed the show or any of the performances, we've got them all for you below.
Here is the line-up from Monday night:
Catie Turner and Andy Grammar, "Good To Be Alive (Hallelujah)" by Andy Grammer
Cade Foehner and Bishop Briggs, "Never Tear Us Apart" by INXS
Layla Spring and Sugarland, "Stuck Like Glue" by Sugarland
Dominique and Aloe Blacc, "Wake Me Up!" by Avicii & Aloe Blacc
Brandon Diaz and Luis Fonsi, "Despacito" by Luis Fonsi, Daddy Yankee, & Justin Bieber
Kay Kay Alexis and Pat Monahan of Train, "Drive By" by Train
Trevor McBane and Bishop Briggs, "River" by Bishop Briggs
Michelle Sussett and Luis Fonsi, "I Can't Make You Love Me" by Bonnie Raitt
Jonny Brenns and Andy Grammar, "Back Home" by Andy Grammer
Dennis Lorenzo  and Allen Stone, "Unaware" by Allen Stone
Michael Woodard and Pat Monahan of Train,"Angel In Blue Jeans" by Train
Gabby Barrett and Sugarland, "Stay" by Sugarland
The best performances of the night came from Dennis Lorenzo and Michael Woodard. Dennis and Andy were a natural pairing. I wouldn't have thought of it before I saw it, but it really worked. It was also a perfect song choice for Dennis. It was smooth and laid back and just really easy to listen to.
As fo Michael, he make everything seem so effortless. He's got such a unique sound and presence, I'm pretty sure he could take any song tossed his way and turn it into a musical work of art. I'm excited to see what he gives us this season.
The judges seemed to enjoy all the performances, which is apparently their thing. They're never critical, which I find boring, especially when plenty of these singers earned some criticism.
Check out the performances below and let us know what you think.
American Idol 2018 Top 24 Group 1 Duets