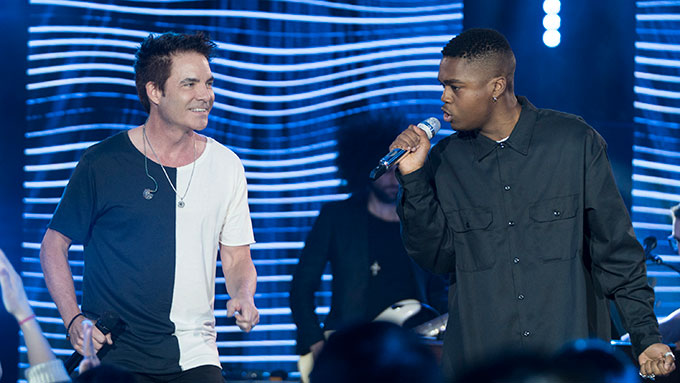 Half of the American Idol 2018 Top 24 took the stage for their celebrity duets performances, and like Sunday night, it was overall underwhelming. This half of the Top 24 is kind of like the American Idol B-team, in my opinion. They're just all kind of safe and boring.
And at the end of the night, the judges had to cut five of the 12, giving us our first half of the American Idol Season 16 Top 14.
As always, I'll be reviewing each performance and assigning the letter grade I think each earned. Please tell us your own thoughts on the performances in our comments section below.
Catie Turner and Andy Grammer, "Good To Be Alive (Hallelujah)" by Andy Grammer. This was a better song for Catie than her solo round. And she and Any really played off each other well. Catie just really has a great time and stays true to herself no matter what. The vocals weren't perfect, and rarely are for her, but it was fun. Grade: B+
Cade Foehner and Bishop Briggs, "Never Tear Us Apart" by Inxs. Love this song. So happy someone chose it and Cade really turned it into his own. I don't really get him and Bishop as a pairing, though. They're so different I thought t would work, but I didn't quite get it. And really, I couldn't even tell what song it was. They could have kept some of the original song elements. Cade is going to be just fine, though. Grade: B
Layla Spring and Sugarland, "Stuck Like Glue" by Sugarland. Layla played really well off Sugarland. I didn't like the song choice for her and she got a little overshadowed, but she's so fun and cute, her stage presence is perfect. Grade: B+
Dominique and Aloe Blacc, "Wake Me Up!" by Avicii and Aloe Blacc. Dominique was a bit shaky with this performance. And singing next to Aloe Blacc didn't do him any favors. It was kind of boring, too. I'm not sure why it wasn't produced a little better for this crucial moment. I'm kind of baffled by it. Grade: B-
Brandon Diaz and Luis Fonsi, "Despacito" by Luis Fonsi, Daddy Yankee, and Justin Bieber. First of all, no, not a man bun. I liked that he performed the song in Spanish and I really liked his energy and his dance moves. He's a natural on stage. The vocals weren't bad, but again he was a bit upstaged by his duet partner. Grade: B+
Kay Kay and Pat Monahan, "Drive By" by Train. Well the good news is that she was the first one to not get showed up by their duet partner because Pat isn't a good singer. The bad news is, she sounded terrible most of the performance because she apparently has never performed with a band and couldn't hear herself sing. Grade: C
Trevor McBane and Bishop Briggs, "River" by Bishop Briggs. OK, why was he so creepy during the presence? Was that the plan? I was just really put off by that and found it hard to get past. And then the vocals didn't help me forget it. This was not good. Grade: D+
Michelle Sussett and Luis Fonsi, "I Can't Make You Love Me" by Bonnie Raitt. I'm glad she finally slowed it down a bit. I was actually getting exhausted from her upbeat performances. But did she forget to start the song? I'm not sure. The whole start was a bit rough, but by the chorus it was pretty good. Grade: B
Jonny Brenns and Andy Grammer, "Back Home" by Andy Grammer. Can Jonny please get the American Idol stylist? Why isn't someone styling him? At the very least, cut his hair. Now for the performance, I thought it was OK. Jonny is a favorite, so he could do anything right now and the judges wouldn't touch him. Not that he deserved to get cut for this performance, but it just wasn't my favorite. Grade: B-
Dennis Lorenzo and Allen Stone, "Unaware" by Allen Stone. Dennis is so smooth. This was such a mellow performance. I just kind of closed my eyes and took in the vibe. That was good. And Dennis definitely didn't get upstaged. This one was by far the best of the night, in my opinion. Grade: A+
Michael Woodard and Pat Monahan, "Angel In Blue Jeans" by Train. This wasn't a great pairing, but Michael put his spin on the song and really made it work. Michael is such an artist, that I don't think he could do any wrong at this point. I'm still waiting on him to find the perfect song, though, and this wasn't quite it. Grade: A
Gabby Barrett and Sugarland, "Stay" by Sugarland. I'm not sure why they saved this until the last. Was it supposed to be the showstopper? Because I found it boring. I just don't get Gabby. Her vocals were better tonight because she wasn't trying to over-twang it. She does a much better job when she's not trying to force it. Grade: B+
And now for some results.
Moving on to the Top 14
Cade Foehner
Michelle Sussett
Dennis Lorenzo
Gabby Barrett
Jonny Brenns
Michael Woodard
Catie Turner
Going home
Dominique
Layla Spring
Trevor McBane
Kay Kay
Brandon Diaz
I think the biggest mistake the judges made with the results was sending Layla home. I'm sure their thinking is that it had to be either her or Gabby. I don't understand why it couldn't have been both of them, or better yet, why it wasn't Gabby instead of Layla who was sent home.
What did you think of the performances and the American Idol results?
American Idol Network's Top Performance of the Night
Dennis Lorenzo & Allen Stone sing "Unaware" on American Idol