We are closing in on the both the launch of American Idol Season 14 and the start of 2015, so why not start working on what we think should be the New Year's Resolutions for this American Idol Judges panel in 2015.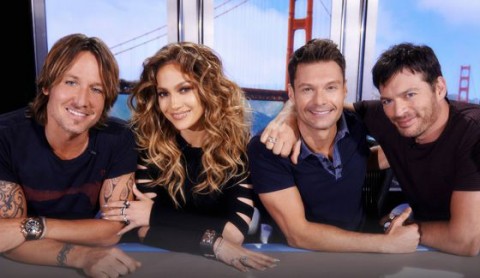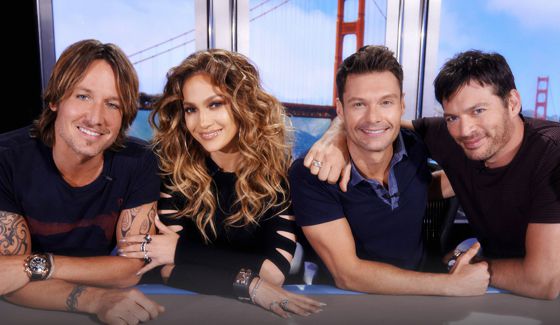 We're thrilled for the return of American Idol on January 7th so let's have some fun in setting some goals and New Year's resolutions for Jennifer Lopez, Harry Connick Jr., Keith Urban, and yes, even our favorite TV host, Ryan Seacrest.
Jennifer's return to Idol last season brought a level of sanity that we were missing the year before, but what didn't she bring back? The "Goosies." Gone were the bumpy marks of excitement for the lady of the panel as she traded them in a more serious case of "stank face" and potty mouth.
See, now I'm torn. Ditching the Goosies was a great move, but how am I supposed to know who to vote for? Was that look of repulsion an endorsement or rejection? Help me, JLo. Help me! Our 2015 New Year's resolution for Jennifer: find that third heat of emotion and show us the way.
Harry Connick Jr. is most definitely back and perhaps has us the most excited of the three. Harry's incredible musical talent and charisma has kept the American Idol auditions and live shows exciting and entertaining, but this year we just need him to let loose.
Instead of feeling so constrained and reserved I hope Harry can really just be himself and comfortable enough to crack a joke from time to time. Yes, more joking there. Let's see if Harry's resolution can be to up the ante on his joke count while still being one of the most constructive Judges we've ever seen on American Idol.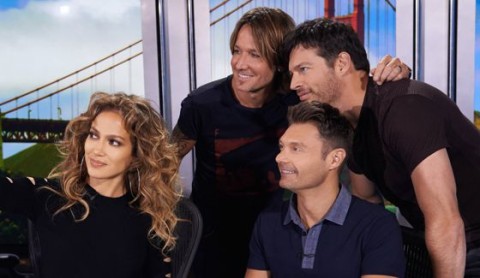 Keith Urban, clearly the mean guy of the Judges panel with his big smile, soft laughter, and flowing locks returns for his third season so watch out, Hopefuls! Having survived the disastrous Season 12 panel Keith returns for what has become the "good cop, good'er cop, & 'goodiest' cop" trio of Judges.
For American Idol 2015 we hope to see Keith shed that hard shell and warm up to the singers. I'm kidding, of course. Keith has a lot of know-how and positive support that the contestants look to after a round of tough love from the other two Judges which makes him invaluable to the finalists' self-esteem. So keep channeling Paula and we'll be happy. And as for that trick where he turns himself into Adam Lambert, we're impressed.
We can't get through this list without a nod to Ryan Seacrest, the host of American Idol. It wouldn't be Idol without him so aside from promising to come back each and every season that FOX will have them, what I'm hoping to see Ryan this year is more calf raises and an extra pair of shoes. If Harry steps up his silliness to 11 and Ryan has a backup pair of loafers then I think we'll be all set for American Idol 2015.
What do you most hope to see come out of American Idol? Vote in this Insticator poll for your pick. The new season arrives Wednesday, January 7, 2015 and we'll be back with our constant coverage across our site, on Facebook, Twitter, and by Email Updates so be sure to join us for a lot of Idol!
American Idol 2015 Judges – preview: