The latest American Idol predictions for tonight's results show are in. Let's look at who is projected to be voted out tonight based on your votes in our weekly performance poll.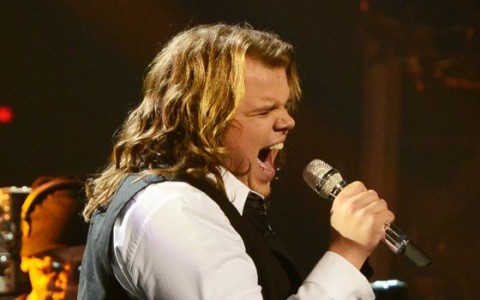 * UPDATE: Find out who went home on American Idol tonight in our elimination show recap!
After weeks of seeing one singer taking a commanding lead in these polls the playing field was surprisingly level across this week's top 3 finalists on American Idol 2014. Caleb Johnson took in 23% of our poll's vote, Jena Irene is at 22%, and Sam rounds out the top three with 21%. All three of these singers are most likely safe and I'd be shocked for any of them to leave the stage with a swan song tonight.
Caught in the middle of the Idol pack we've got Alex Preston at 15% and Jessica Meuse just behind him at 13%. They're down in the polls, but a healthy step ahead of the last place contestant in our poll this week. That's right, CJ Harris is all the way down in last place with just 3% of the vote. Week after week we've seen CJ circling the drain in our polls but he manages to pull out "safe!" move each time.
The Bottom 2 this week for American Idol 2014 has got to include CJ. Who joins him could be a toss up between Jessica and Alex, but based on her appearance there last week I'll give that unfortunate honor to Jessica.
Based on your votes, the readers here project CJ and Jessica will be in the Bottom 2 with CJ finally signing off and heading home. If it's not CJ, well then my goodness he's got some enviable vote support out there that I wouldn't want to be competing against.
Do you agree with the polling projection this week? Share your thoughts!